Old Crow and Company Wool Kit
by Moda
Old Crow
"and"
Company Table Runner from Primitive Gatherings Finished Size is 10 1/2 X 30" Wool, backing
"and"
pattern included. Wool is not felted.
$30.00
Jack and the Beanstalk
by Heavens to Betsy
UPC:
1481576262
Jack
"and"
the Beanstalk by Heavens to Bety, dark brown with green
"and"
red plaid, 100% Wool.
Primitive Quilts and Projects Spring 2017
by Primitive Quilts & Projects
Primitivve Quilt
"and"
Projects Spring 2017. Sixteen inviting accents for the tabletop,wall
"and"
more. Homey hooked rugs. Fabric storage tips. Scrap happy quilts for all skill levels.
$7.99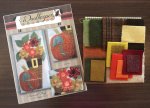 Woolkeeper Peace and Plenty Kit
by Woolkeeper and Sew Blessed
Woolkeepers beautiful fall pattern kitted with wool in red, orange, tans, green
"and"
golds. Background fabric included is home spun in tan
"and"
green. Finished size 6" x 12" Wool is not felted.
$19.50