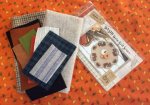 Barn Girls Tractors all around kit

Buttermilk Basin Girl Series Tractors all around kit Kit contains tan flannel and wools in cream, blue, orange, blue and green. Finished size 17" round



Out of Stock
Frames Sheep with Hat kit

Frames sheep with hat Kit Kit contains pattern and tan fabric background with wools in reds, green, brown, black and cream to complete this cute winter kit. Finished size 4"x6" framed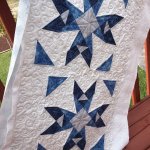 Frosted Stars Kit

This table runner kit features fabrics from the Forest Frost II line for Moda. Finished size is 18"x60". Pattern is from Winterlude by Doug Leko. Winterlude book is sold separately and not included in kit.


Hexi Door Greeters April Kit

Buttermilk Basin Hexi Door Greeters "Nest" April Kit includes pattern, wool in mauve, pinks, green and cream. Flannel backing. Finished size 9" x 23.5"


Hexi Door Greeters July Patriotic Kit

Buttermilk Basin Hexi Door Greeters July Patriotic Kit Kit contains pattern, wool in tans, creams, green, blue and red. Backing is flannel


Hexi Mats thru the Year Sept Kit

Buttermilk Basin Hexi Mat thru the Year September is adorn with pumpkin, acorn, and a sunflower. Wool colours of orange, brown, golds, cream, and black are in this kit. Pattern is included but the backing is a beautiful flannel


Holiday Skate Kit

Buttermilk Basin Holiday Skate kit Contains pattern, and wools in red, tan, cream and gray. Black wool backing. Finished size 10.5" x 10.5" framed



Out of Stock
Kith & Kin Quilt Kit

Kith & Kin Quilt Kit includes the Kith & Kin pattern by Lella Boutique, a Farmer's Daughter jelly roll, and yardage of Farmer's Daughters fabric and coordinating blenders. Kit includes fabric for the top and binding; does not include backing or battin


Little Quilts Squared Sept Kit

Little Quilts Squared September-Moonlight Hoot Kit This adorable owl kit contains green plaid flannel, wools in shades of blue, cream, mustard, grey and rust. This kit can be made into a calendar or a quilt Finished size 12"x12"


Mod Flamingos Kit

Mod Flamingos Quilt Kit Kit contains pattern, turquoise fabric and a variety of pink floral prints. Finished size 46"x46' NOTE Quick Curve Mini ruler is needed but NOTincluded in the kit.


Polo Kit

Polo Quilt Kit includes the Polo pattern by Villa Rosa Designs, a Blue Barn by Laundry Basket Quilts charm pack, and coordinating yardage from the Blue Barn line. Kit includes fabric for quilt kit and binding; backing and batting not included. Fabric is 1


Quilt As You Go Mug Mats - Quilty Fun

Quilt As You Go Mug Mats - Quilty Fun. Kit includes pre-printed batting, statements, and patterns.


Quilty Barn Quilt BOM

Quilty Barn Quilt Block. Featuring 12 Quilty Barn Quilt blocks with barn quilts from Farm Girl Vintage. Finished size 64 1/2" x 84 1/2". Kit includes quilt top fabrics & binding. Book & backing not included. (Farm Girl Vintage book needed.)


Row By Row 2016 Kit

Spring Stacked Bird Houses for Row by Row 2016. Finished Size 9"x36" includes pattern


Salem Quilt Show Kit

Salem Quilt Show Kit featuring fabric from Meg Hawkey of Crabapple Hill. Beautiful virbrant colurs of pinks, purples, greens, and oranges complement the panel from the Salem Quilt Show fabric line to make this quilt top Pattern is included Finished siz


Shop Hop Block Kit 2016

Sew Many Miles of Fun Block, Sew Blessed's block is January. Visit the 12 participating shops during Nebraska's Shop Hop, April 7th-16th, 2016. Collect a FREE pattern showcasing a unique idea to turn each month of the Season's Sewn exclusive panel into a


Shop Hop Wall Hanging Kit 2016

Season's Sewn Wall Hanging By Sew Blessed Quilt Shop featuring Nebraska's Shop Hop Fabric 2016. Finished size is 39 3/4" X 33 1/8".


Trucks All Around Kit

Buttermilk Basin Trucks All Around Kit Contains Pattern wools in cream, red, green and black. Flannel backing. Finished size 17" round


Twister Gnomes Kit

Twister Gnome table runner kit Perfect for an holiday table Features fabrics in red, greys and green. Finished size 15" x 39"


Woodland Holiday Kit

Buttermilk Basin Woodland Holiday Kit Contain pattern, wools in tan, grey, black, reds, and green with a black woven background Finished size 10"x40"