Roundabout Tablerunner Kit

Cut Loose Press Roundabout Table Runner Kit. Beautiful blues, greens and purple batiks fabric. Finished size 17 1/2" x 50 1/2" Kit includes pattern and topper fabric. Binding and Backing not included


Eat Your Veggies Table Runner Kit

Eat Your Veggies Table Runner Designed by Jean Ann Wright for Cut Loose Press. Creative Grids Pineapple Trim Tool CGRJAW3 is showcased with this project. Finished Size is 18" X 58". Kit includes pattern, fabric for top of table runner and binding. Ba


Eat Your Veggies Table Runner Kit Pub Crawl

Eat Your Veggies Table Runner by Jean Ann Wright for Cut Loose Press featuring the Creative Grids Pineapple Trim Tool CGRJAWS3. Kit features Pub Crawl Fabric from Clothworks. Finished Size is 18" X 58". Kit includes pattern, quilt top cotton fabric and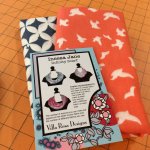 Inessa Jane Infinity Scarf Kit

Inessa Jane Infinity Scarf by Villa Rosa Designs featuring Whispers Double gauze Batiks Glow or Dusk. Glow orange with doves and Dusk is blue with geometric design. 100% Cotton 44-45" wide. Kit includes pattern and fabric to make scarf.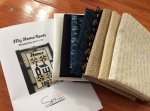 My Home Roots Kit

My Home Roots designed by Sew Blessed for Nebraska Shop Hop 2017. Finished size wall hanging 26 1/2" x 13". Pattern is written for wool applique on cotton, however cotton applique may replace the wool. The perfect gift to personalize for weddings or anniv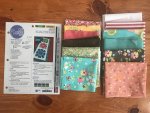 Rolling Stone Runner Kit

Rolling Stone Runner kit includes fabric for the front and binding of the runner. This pattern uses the Creative Grids Square on Square ruler (not included.) Backing and batting not included. Finished size is 21"x47".