5 Pack of 10in Luxe Cuddle Strips Jungle

5 Pack of 10in Luxe Cuddle Strips Jungle



Out of Stock
America Beautiful Kit

America Beautiful Kit


Apple Seed Cider kit
Out of Stock
Asagail Blue Goose Kit
Ava Kit Throw
Back Home For The Holidays Kit

Back Home For The Holidays Kit


Bee Quilty Block
Cider Kit
Dance In Paris Kit -Kit1740
Eat Your Veggies Table Runner Kit
Figs Shirtings Kit

Figs Shirtings Kit


Happy Day Kit
Homegrown Holidays Kit

Homegrown Holidays Kit



Out of Stock
I Love Sn'gnomies KIt
Kitty Playground Kit
Lily Kit

Lily pattern from Vila Rosa featuring beautiful batiks in pinks and oranges.



Out of Stock
Marching Band Kit Lap

Marching Band pattern by Atkinson Design Quilt Kit Featuring Three Sisters Rue 1800 Pattern, Fabric for quilt top and binding is included Lap Size 60x72


Memoirs Kit

Memoirs Kit


Merry Little Christmas Kit
Oh Christmas Tree Kit
Old Glory Quilt Kit
Outdoorsy Take a Hike Kit
Posh Pocus Witch Kit
Out of Stock
Praises Kit
Radio Waves Kit - Throw

Radio Waves Kit: Kitted by Sew Blessed using batik fabrics. This kit uses 2 1/2" strips and finishes 56" x 65".


Rain Check Quilt kit
Spring Brook Kit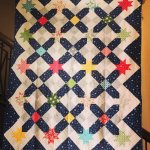 Starway Kit
Strawberry Social TPB 1316
Taylor All Hallows Eve Quilt Kit
Teatime Table Runner kit
Trellis KT 55144
Trinity Quilt Kit
Trixie Quilt Kit Fabric Only
Venus Galatic Explosion BOM
Out of Stock
We the People Quilt Kit
Out of Stock
Be My Baby Kit
Bear Paw Star Kit
Bizzy Kid Quilt Kit 48 X 60
Boardwalk Prairie Kit 66 1/2 X 76"