Skip Navigation
Website Accessibility
Sew Blessed News - June 26th
Good morning all!

We have about 1/3 of the kitchen cabinets painted. Yay! This is going to be a long process. But while the paint dries, I've been sneaking to my sewing machine to work on finishing a few projects. We had some ladies ask what the pattern was called for the paper-piecing class we took - Prairie Pinwheels by Quiltworx.

We have had lots of NEW inventory in this week...but we are keeping some of it a secret until July 21st! Lots of beautiful Christmas lines - you are going to love! But we MUST make some room for it first! So watch for an upcoming sale...

We will be offering a NEW BOM program starting in July - Winter Wonderland. This will be wool applique quilt. We will share more details the first of next week! Eeek! It is going to be a beautiful cozy project.




Our July quilt class will be held the 17th & 18th. We will be making the Half-Square Triangle Sampler. This is a great class to work on skill building. You will learn two methods of making half square triangles, then use your favorite to complete a throw size quilt. Here are the details:

Class Fee: $15.00
Project: Half-Square Triangle Sampler
Seats: 10
Instructor: Ashlee Sintler
Kit: Gypsy Lane Kit $79.00 OR
you may come in and choose your own fabrics
Skill level: Beginner to Intermediate




Call us at 308*344*9389 or email us at juststitchin2014@gmail.com if you would like to join us!

Upcoming Calendar Events:
June 26th & 27th - Strip Tube Quilt Class
June 21st to Sept 8th - Row by Row Experience
July 11th - Woolie Saturday
July 17th & 18th - Half-Square Triangle Sampler
July 21st - Stash Busters Club 5:30 - 9:00
August 7th & 8th: Quiltworx Certified Instructor - Wedding Ring Class (details coming soon!)

The Row By Row Experience has started and runs until September 8th! Row patterns can be picked up at any participating shop for free and kits will be available for purchase. Check out participating shops at www.rowbyrowexperience.com !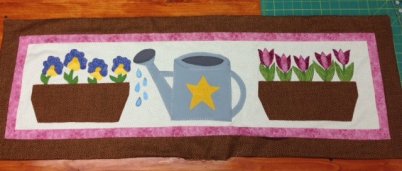 I am going to spend the morning outside with my boys and then get ready for the Strip Tube Class this evening! Hope you have a great weekend!

See you soon!
Kif & Ashlee
402 Norris Ave
Suite 203
McCook, NE 69001
308*344*9389
Hours:
Tuesday - Friday 10:00 - 5:30