Sew Blessed News - July 10th
Good Friday morning to you!

How are you today? I have been sewing, sewing, sewing on my paper piecing project. Hopefully, by next Friday I will be able to email you out a picture of the finished quilt top! I am super excited to see it come together! We have been busy in the shop this week getting ready for a CrAzY Sale next week! And we have done some rearranging so stop in to see us!

A NEW line is in this week: Paradise by Camelot Fabric! We have kitted up a darling quilt by Abbey Lane Quilts called Shake, Rattle, & Roll. It is super fun and cheery!




It's not to late to join us for Winter Wonderland. This will be wool applique on homespun fabric quilt. It is going to be a beautiful cozy project. Here are the details:

BOM Program: 5 month program
Cost: $25 per month or $115 pre-pay
Starts: July 7th




Call us at 308*344*9389 or email us at juststitchin2014@gmail.com if you would like to join us!

For the next few Fridays, we are going to be introducing our employees to you! So this week let's get to know Kif aka "The Boss".




Kif is the shop owner. You can find her here on Tuesday, Wednesday, & Saturday.
Favorite Quilting Snack: White Chocolate Cranberry Chex Mix
How long have you been quilting? Around 10 years.
Favorite thing about quilting: Making something and sharing it with my friends and family.
Least favorite thing about quilting: Binding!
Favorite notion: Oh I have a few; Frixion Pens, Valdani Thread, & Seam Fix Ripper.
Favorite quilting quote: "Friends are like quilts, they never lose their warmth."
Favorite quilting project: I love the t-shirts quilts I have made for my kids!

Upcoming Calendar Events:
June 21st to Sept 8th - Row by Row Experience
July 11th - Woolie Saturday
July 16th - 18th: CrAzY Sale
July 17th - Half-Square Triangle Sampler
July 21st - Stash Busters Club 5:30 - 9:00
August 7th & 8th - Quiltworx Certified Instructor - Wedding Ring Class
August 18th - Stash Busters Club 5:30 - 9:00
October 24th - Strip Tube Class: X Factor

Our CrAzY Sale will start Thursday July 16th. From 7 to 10 am save 35% off storewide! Thursday, Friday, & Saturday save 25 % off storewide! Some exclusions apply: BOM, Classes, & Paradise Line.

We are loving seeing everyone for the Row By Row Experience.You can join in the fun from now until September 8th! Row patterns can be picked up at any participating shop for free and kits will be available for purchase. Check out participating shops at www.rowbyrowexperience.com !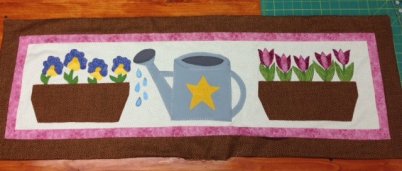 Grayson loved the fireworks! He kept oohing & aahing and saying "Look mom, look!" Today I am piecing a couple NEW samples for the shop! Hopefully we will have them hung up by next week! Don't forget the new Country Register is here. Have a wonderful weekend!




See you soon!
Kif & Ashlee
402 Norris Ave
Suite 203
McCook, NE 69001
308*344*9389
Hours:
Tuesday - Friday 10:00 - 5:30