Sew Blessed News - July 18th
Happy Saturday!

You probably thought I forgot about you all yesterday! I did...kind of! Mom, dad, & AJ are off to Alaska. They arrived at 4:30 am this morning! So, I was super busy yesterday teaching and helping out at the shop.

We have lots of NEW goodies that arrived yesterday! So, watch our Facebook and email next week for a peek at them! Or stop in and check them out! (The Christmas fabric will go out next week! Eeekk!!)

How are your Block of the Months going? Sue stopped in with her Where The Cows Come Home. It's so beautiful!




For the next few Fridays, we are going to be introducing our employees to you! So this week let's get to know Ashlee aka "Longarmer".




Ashlee is Kif's daughter and store manager. You can find her here just about any day of the week. She can't seem to stay away!!
Favorite Quilting Snack: Chocolates, carmels, & wine
How long have you been quilting? About 13 years.
Favorite thing about quilting: Seeing a finished project. "I love to longarm quilts and create!"
Least favorite thing about quilting: Like my mom...Binding!
Favorite notion: Leather thimbles & best press
Favorite quilting quote: "Is it going to Paducah?" - Meaning it's ok to not be perfect...unless it's going to the National Quilt Show.
Favorite quilting project: My paper pieced project - Prairie Pinwheels.

Upcoming Calendar Events:
June 21st to Sept 8th - Row by Row Experience
July 21st - Stash Busters Club 5:30 - 9:00
August 7th & 8th - Quiltworx Certified Instructor - Wedding Ring Class
August 18th - Stash Busters Club 5:30 - 9:00
October 24th - Strip Tube Class: X Factor
Today is the last day for our CrAz Sale - stop in and save 25 % off storewide! Some exclusions apply: BOM, Classes, & Paradise Line.

We are loving seeing everyone for the Row By Row Experience.You can join in the fun from now until September 8th! Row patterns can be picked up at any participating shop for free and kits will be available for purchase. Check out participating shops at www.rowbyrowexperience.com !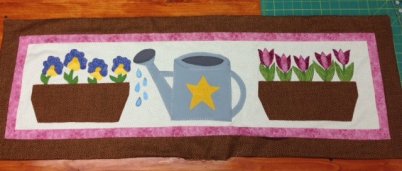 Here are a couple pics from yesterdays class! Hope you have a great weekend and stay cool!




Oops! Sorry it is sideways!!




See you soon!
Kif & Ashlee
402 Norris Ave
Suite 203
McCook, NE 69001
308*344*9389
Hours:
Tuesday - Friday 10:00 - 5:30