Skip Navigation
Website Accessibility
Sew Blessed News - July 24th
Happy Friday Friends!

I heard from mom yesterday! They are having a blastin Alaska and it sounds like she found a couple quilt shops along the way! I hope she has enough room in her bag to bring back some fun fabric! Today they were headed on to Juneau and more adventures. So while she is off having fun, we are here working away at the shop! As promised last week there are lots of NEW goodies so let's get to it!

NEW Christmas fabric is out! It is beautiful! We have Heritage Hollow by Kim Diehl, Kringle Krossing by Simply Shelly Designs, & Do You See What I See? by Leanne Anderson - we have lots of fun projects planned with them too!




Bev finished up this cute table runner, Birdcage, using the Perfectly Seasoned collection. Perfect to make for your table this fall!




NEW batiks from the Los Cabos line from Moda also arrived this week! They are super fun and bright!




For the next few Fridays, we are going to be introducing our employees to you! So this week let's get to know Bev aka "The Binding Lady".




Bev is one of our daily ladies. You can find her here on Thursdays.
Favorite Quilting Snack: "Anything sweet & salty!!"
How long have you been quilting? "Since 1998 when I was ready for a hobby to help fill my 'empty nest'!"
Favorite thing about quilting: Seeing a finished project. "Everything! Colors - patterns - creativity - sense of pride & accomplishment when the project is finished."
Least favorite thing about quilting:"Too many projects to do & budgeting my time to finish them. I have several quilts in the works at the same time!!"
Favorite notion: Frixion pens for marking - they are great! Also, my Olfa rotary cutter.
Favorite quilting quote: "So much fabric - so little time!!"
Favorite quilting project: Judy Niemeyer paper-piecing & Kim Diehl applique quilts.

Upcoming Calendar Events:
June 21st to Sept 8th - Row by Row Experience
August 8th - Woolie Saturday
August 7th & 8th - Quiltworx Certified Instructor - Wedding Ring Class
August 18th - Stash Busters Club 5:30 - 9:00
September 12th - Woolie Saturday
September 15th - Stash Busters Club 5:30 - 9:00
September 26th - Pamper & Press Class
October 24th - Strip Tube Class: X Factor


We are loving seeing everyone for the Row By Row Experience.You can join in the fun from now until September 8th! Row patterns can be picked up at any participating shop for free and kits will be available for purchase. Check out participating shops at www.rowbyrowexperience.com !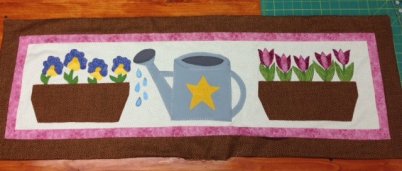 The NEW Simply Vintage magazine and Primitive Quilts & Projects are in!




Well this weekend while it is hot, I plan to hang out in the basement with my longarm machine where it is cool! Stay cool friends! Stop in and see us!

See you soon!
Kif & Ashlee
402 Norris Ave
Suite 203
McCook, NE 69001
308*344*9389
Hours:
Tuesday - Friday 10:00 - 5:30