Sew Blessed News - July 31st
Happy Friday Friends!

How are you all doing today? I can't believe it's the end of July already! It's been nice to have a small break from the heat! I did get to spend the weekend working on my longarm...but I forgot to take a picture of what I was working on, so, next week I will send a picture! Mom is back from vacation but now I think she needs a stay-cation to catch up from all the fun they had!

Last week, I shared the beautiful Christmas lines we have in - this week I want to share with you one of the kits we have made. Window Frost Quilt Kit featuring Winter Blessings by Kim Diehl. I can't wait to see this made up! (Maybe I'll volunteer to make a sample....)




Also, NEW in Hi De Ho by Moda! This fun fresh line will be darling made up into a fun quilt. We do have jelly rolls to match too!




You all know we LOVE Villa Rosa Designs! Well the newest one we have fallen in love with is the pattern Honor. Using two focal fabrics, you create a beautiful quilt. We chose to use Serenity. Kits and patterns are available!




It's not too late to join us for the "Grandma's Wedding Ring" quilt class taught by certified instructor Catherine Erikson. Call us today to join in the fun! For those of you taking the class, I encourage you to take a peek at what quilts Catherine has made. You can find them online at:
http://www.quiltworx.com/instructors/catherine-erickson/

For the next few Fridays, we are going to be introducing our employees to you! So this week let's get to know Cindy aka "Kit Queen".




Cindy is one of our daily ladies. You can find her here on Tuesdays & Wednesdays.
Favorite Quilting Snack: Party mix and cheese crackers
How long have you been quilting? 20 years - I first learned to quilt by hand piecing & quilting.
Favorite thing about quilting: Sense of accomplishment. I also love to learn new techniques & do handwork.
Least favorite thing about quilting: Matching points
Favorite notion: Valdani thread - it's great!
Favorite quilting quote: "Don't let my husband sell my kits for what I told him they cost when I die!"
Favorite quilting project: Anything wool applique.

Upcoming Calendar Events:
June 21st to Sept 8th - Row by Row Experience
August 8th - Woolie Saturday
August 7th & 8th - Quiltworx Certified Instructor - Wedding Ring Class
August 18th - Stash Busters Club 5:30 - 9:00
September 12th - Woolie Saturday
September 15th - Stash Busters Club 5:30 - 9:00
September 26th - Pamper & Press Class
October 24th - Strip Tube Class: X Factor


More Row by Row ladies came in today! You can join in the fun from now until September 8th! Row patterns can be picked up at any participating shop for free and kits will be available for purchase. Check out participating shops at www.rowbyrowexperience.com !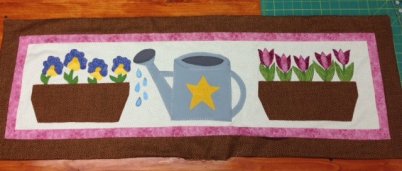 Have a license plate but don't know what to do with it? Check out this Sealed With A Stitch pattern - License Plate Traveling Tote!




And we have NEW wool and wool kits out! Stop in and check them out!

This weekend I hope to get all the doors back on my kitchen cabinets! Painting them has been a long process but I am loving the results! Have a wonderful weekend!

See you soon!
Kif & Ashlee
402 Norris Ave
Suite 203
McCook, NE 69001
308*344*9389
Hours:
Tuesday - Friday 10:00 - 5:30