Sew Blessed News - August 14th
Happy Friday Friends!

How are you all doing today? I missed writing you all last week...but I was having lots of fun learning with the certified instructor. (Check out the pictures at the end.) We had a great time learning Judy's paper piecing techniques. So, today I've got lots to share because lots of NEW has happened in the last two weeks! Oh and here is a pic of the longarm work I was doing:




NEW fabric in this week:
Fiji Batiks from Moda with matching layered cakes! These are really funky and fresh!




Pie Making Day by RJR. We think these will pair perfectly with the Farm Girl Vintage book by Lori Holt!




NEW Fall and Halloween wool kits are out! Check out this favorite - Spooky by Little Red Hen!




Speaking of Fall...football season is right around the corner! We've created this Touchdown quilt kit in red, gray, and black - just in time for Friday night games or those lazy Saturday afternoons!




Who loves Wing & a Prayer design? Join us for a NEW Block of the Month program starting November 3rd! Tonga Gemstone is a batik BOM program. Here are the details:

Program: Tonga Gemstone
Starts: November 3rd, 2015
Monthly price: $23.00
Pre-pay: $ 250.00
This price includes all quilt top fabric & pattern.




If you are interested in joining us email us at juststitchin2014@gmail.com or call the shop at 308*344*9389.

For the next few Fridays, we are going to be introducing our employees to you! So this week let's get to know Ellen aka "Wool Lady".




Ellen is one of our daily ladies. You can find her here on Fridays.
Favorite Quilting Snack: Chocolate and anything salty...don't forget the Pepsi!
How long have you been quilting? 25 years
Favorite thing about quilting: The relaxation and satisfaction of making something.
Least favorite thing about quilting: Ripping out!!
Favorite notion: Scissors - super sharp ones! Sharp blades and thimbles.
Favorite quilting quote: "Only God is perfect."
Favorite quilting project: "I love paper piecing, embroidery, and wool work!"

Upcoming Calendar Events:
June 21st to Sept 8th - Row by Row Experience
August 18th - Stash Busters Club 5:30 - 9:00
September 12th - Woolie Saturday
September 15th - Stash Busters Club 5:30 - 9:00
September 26th - Pamper & Press Class - FULL
October 24th - Strip Tube Class: X Factor

Here are a couple pics from our class! Have a great weekend!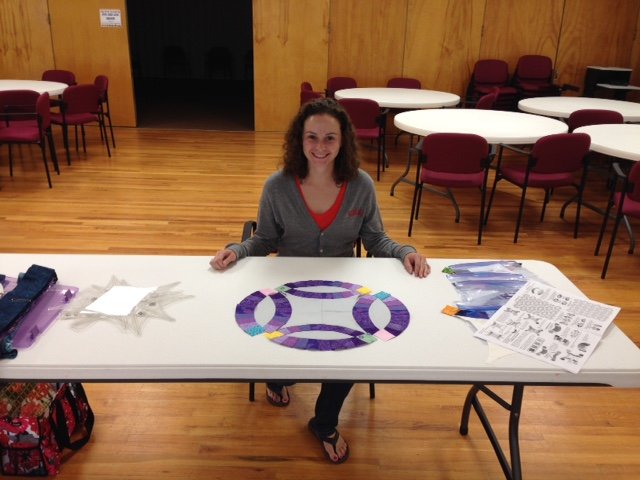 See you soon!
Kif & Ashlee
402 Norris Ave
Suite 203
McCook, NE 69001
308*344*9389
Hours:
Tuesday - Friday 10:00 - 5:30