Sew Blessed News - September 25th
Happy Fall ya'll!! (I just love saying that!)

Hasn't this weather been fabulous? Just warm enough to get out during the day without a jacket but cool enough to open windows. And you know what fall means....quilting season is here! It's officially OK for me to stay inside and sew, sew, sew! Anyways enough about how much I love Fall! Let's check out what's NEW this week!

A lovely NEW fabric line in red, white, black, and ladybugs has arrived! We love this darling line and have a FUN Cozy Quilt pattern in mind.




We have a fun NEW product in called Double Gauze! This is perfect for making swaddle baby blankets and it is so simple! Check out these darling elephants!!




NEW from Buttermilk Basin - Simply Words BOM. These finish at 6" square and can be made into a little wall hanging or a cute pillow or pin cushion!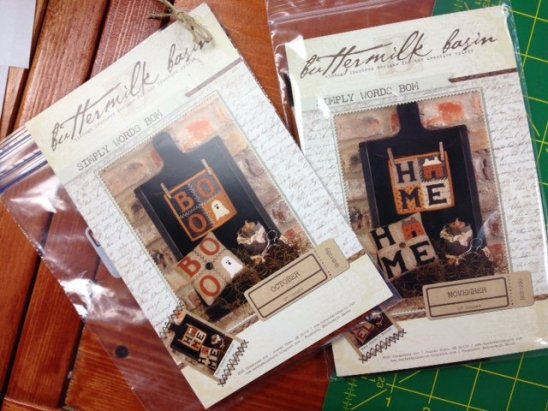 We have an opening in the X Factor class in October. If you have interest in joining us call us at 308*344*9389 or email us at juststitchin2014@gmail.com. Here's a sneak peek at what the ladies will be making:





There is still time to sign up for our upcoming Class:
Snow Star Runner

When: Saturday, November 7th
Skill Level: Beginner to Advanced
Instructor: Ashlee Sintler
Class Fee: $15.00
Kit: $25.00
Book: Snowmen In the Coop $22.50
Class Size: 12

Join us for a little piecing and a little wool applique! In this class you will learn the techniques for wool applique while making a table runner. Finished size 12" x 36".




If you are interested in joining us for a class call 308-344-9389 or email juststitchin2014@gmail.com! We would love to have you!

Calendar Events:
September 26th: Pamper & Press Class - FULL
October 10th: Woolie Saturday
October 20th: Stash Busters
October 24th: X Factor Class - 2 seats
November 7th: Snow Star Runner Class

The wide backing for Moonlight Sonata is ready! Stop in whenever to pick it up!

Well I am off to finish preparing for the Pamper & Press class tomorrow! Have a fabulous weekend and if you are in town, don't forget to take in the Heritage Days festivities.

See you soon!
Kif & Ashlee
402 Norris Ave
Suite 203
McCook, NE 69001
308*344*9389
Hours:
Tuesday - Friday 10:00 - 5:30