Sew Blessed News - February 12th
Happy Friday friends!

How are you today? I hear we are headed for a little warm up! It won't take long to get rid of the snow. How is your progress going on this months UFO? I've got one and half blocks embroidered on my Whooterville and a good start on my quit project. Here are the numbers if you are sewing along with me: 8 & 21. Share with us your progress on Social Media - Facebook & Instagram - use #SewBlessed

We will be holding a Grand Opening at our NEW location this Saturday, February 13th from 10:00 am to 3:00 pm! Stop by to say hi! There will be goodies plus save $5 on any $25 purchase!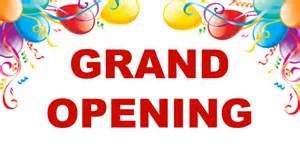 Upcoming calendar events:
February 1st - Open for Sit 'N' Sew - NEW
February 13th: Woolie Saturday & GRAND OPENING
February 16th: Stash Busters
February 20th: Disappearing 4-Patch Class - NEW
March 19th: Pamper & Press

We have loads of fun NEW things happening at the shop! We are super excited to be carrying a NEW (to us) wool designer - Woolkeeper. Check out these beautiful Spring patterns. (I see some bunny making in my future!)





There is still room to join us for our next class, taught by Bev - Disappearing 4-Patch
This fun class uses pre-cuts and a little bit of shuffle to create a beautiful throw! Here are the details:
Class: Disappearing 4-Patch by Missouri Star
Instructor: Beverly Dodge
Date: Saturday, February 20th
Class Fee: $15
Class Kit: $65 using Dot Dot Dash from Moda OR choose your own fabrics in-store
Other Fees: Book $5.99 or pattern $4.95

Questions about the class please stop in or call 308*344*9389 us!
Isn't this sample lovely!




We will be at it again in March with another Pamper & Press! It will be held Saturday, March 19th and we will be making Tuscan Sun! More details rolling out next week!
Class: Pamper & Press Tuscan Sun
Instructor: Ashlee Sintler
Date: Saturday, March 19th
Class Fee: $15
Class Kit: $53.50 (3 kit choices will be available)
Seating is limited to 10!





Don't forget - we would like to welcome you to come and "Sit 'N' Sew" in store with us! For a $5 fee you can sew in store with us. Have supplies and expertise at the ready! Grab a friend and make it a day!

Stop in and see Sangria - the newest BOM from Wing and a Prayer Designs. The sample will be here for just a couple more weeks! It's gorgeous!!




The birthday boy had a great time last weekend! Being 3 couldn't be better! The best present of all may have been Uncle AJ coming home to celebrate. :) Have a wonderful weekend! Don't forget to stop in and see us tomorrow!!


See you soon!
Kif & Ashlee
402 Norris Ave
Suite 103
McCook, NE 69001
308*344*9389
www.sewblessed.us

Hours:
Monday - Friday 10:00 - 5:30