Skip Navigation
Website Accessibility
Sew Blessed News - August 12th
- Happy Friday Friends -

How are you on this fine day? I don't know about you but I'm glad to have a little cooler morning today! I was able to get a few things finished this week...my comfort quilt borders are on and I finished up some binding on a shop sample. I do have to admit I've been a little glued to the TV, as I'm sure some of you have been too...GO USA! So once the Olympics are over I will have to get back after a UFO (but I've sure enjoyed the break from them!)

Here's what's happening in AUGUST (Yes August is here already)!
June 21st: Row x Row begins!
August 13th: Woolie Saturday
August 16th: Stash Busters
September 5th: Labor Day - Closed
September 6th: Star Spangled Liberty BOM starts - NEW
October 14th & 15th - Threads Across Nebraska

We are so excited to launch a NEW Block of the Month program starting September 6th! Join us as we make Star Spangled Liberty by Pam Buda. Here are the details:
Program: Star Spangled Liberty
Length: 9 month program
Start Date: September 6th
Cost: $30/month or $255 pre-pay
This project comes in two versions a pieced and an appliqued. It also features gorgeous reproduction fabrics by Pam Buda! If you are interested in joining us please give us a call 308*344*9389 or stop by the shop and visit.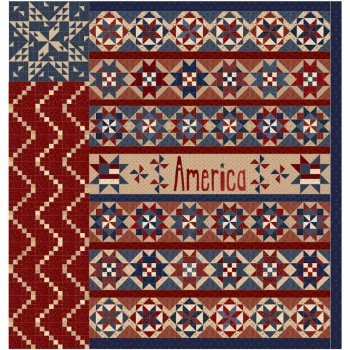 We've also put out some sweet NEW baby fabrics called Lullaby. Choose from pre-cuts or yardage to make something to snuggle for baby today!




Don't forget Woolie Saturday is tomorrow! Meet in the 3rd for training room for a fun filled Saturday! Bring a snack and a friend!

Row x Row 2016 has officially started! We have some fun fabrics and projects to work with this summer! If Row x Row is new to you - check out the details here. Don't forget to check out the shops participating while you are out vacationing!
We have kits available for our row as well as finishing kits for the project! Don't live near us but love our row? We're happy to accept pre-orders for our patterns or row kits to be shipped after November 1st. Row by Row rules don't allow us to ship any patterns or kits prior to November 1st - and we would hate to not be able to share this experience again with you next year!



If you are looking for an upcoming trunk show to attend - check out the Quilt in a Day Trunk Show & Vendor Booth hosted by the Piecemakers Quilt Guild.
When: Saturday, August 27th 1:00 pm - 3:00 pm
Where: McCook Christian Church

Be sure to follow us on Facebook & Instagram to see what is NEW and happening around the shop! Share us with your friends too! They can shop online with us at www.sewblessed.us

I hear some inventory calling my name! But one quick photo of the sample I just finished binding. Aren't these colors gorgeous??




Have a wonderful weekend...and don't forget to cheer on the USA team!

See you soon!
Kif & Ashlee
402 Norris Ave
Suite 103
McCook, NE 69001
308*344*9389
www.sewblessed.us

Hours:
Monday - Friday 10:00 - 5:30