Skip Navigation
Website Accessibility
Sew Blessed News - September 9th
- Happy Friday Friends -

We had a big week in our house...Mr. Grayson started Toddler Pre-school! I have to say I'm not sure who was more upset the first day - his brother or his mom! He went twice this week and is loving every minute with his new teachers and his new friends. So Mr. Colton and I get to spend some quality time together for a little bit each week (- it won't be long before he will get to go to school too!) We've also had some NEW fun things arrive this week so let's check it out!

Upcoming Shop Events:
September 6th: Star Spangled Liberty BOM starts - NEW
September 10th: Woolie Saturday
September 13th: Mystery Ladies Night - Woolie ladies welcome!
September 20th: Stash Busters
October 1st: Mini Pumpkin Class - NEW
October 14th & 15th - Threads Across Nebraska

We have decided to feature a favorite item each month with our Sew Blessed Spotlight! This month we are featuring the Homestead Gatherings fabric line for $8.99/yard. You can find these fabrics in store or under the Sale category on our website. Perfect to sew up something primitive or stash it away for a rainy day!




The fun NEW Simply Vintage magazine is here! Jam packed with fall inspiration - there's sure to be a project for everyone. (I've got my eye on making some beautiful wool pumpkins from this issue.)




It's not to late to join us for this beautiful Block of the Month - two spots are still available! For those of you who are signed up, you can stop in and start picking up your kits anytime.
Join us as we make Star Spangled Liberty by Pam Buda. Here are the details:
Program: Star Spangled Liberty
Length: 9 month program
Start Date: September 6th
Cost: $30/month or $255 pre-pay
This project comes in two versions a pieced and an appliqued. It also features gorgeous reproduction fabrics by Pam Buda! If you are interested in joining us please give us a call 308*344*9389 or stop by the shop and visit.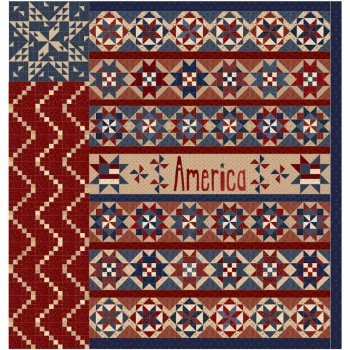 NEW Woolie Block of the Month program starting September 15th! Join us as we make The Gathering Basket by Timeless Traditions. Here are the details:
Program: Gathering Basket
Length: 7 month program
Start Date: September 15th
Cost: $15/month or $95 pre-pay
This project will be a pieced top with wool applique finishing at 48" x 48". Each month you will applique a block and piece a block!




We're also prepping to start up quilt classes again! Our first one will be the Mini Pumpkins wall hanging. Join us as we make this beautiful wall hanging just in time for fall! Here are the details:
Class Date: Saturday, October 1st
Instructor: Ashlee Sintler
Class Fee: $15.00
Class Size: 10
Sewing Level: Beginner to Advanced
Kit & ruler needed for class.





Woolie girls - tomorrow is your day! Meet in the 3rd floor training room at 10:00. Bring a project and a friend! We have some darling NEW wool charms and patterns to show you!




Just a photo of the toddler pre-school BIG boy...I can't wait to see how much he grows and changes this year! Melts my heart!




Have a fabulous weekend - don't forget to get some sewing therapy in!

Be sure to follow us on Facebook & Instagram to see what is NEW and happening around the shop! Share us with your friends too! They can shop online with us at www.sewblessed.us

See you soon!
Kif & Ashlee
402 Norris Ave
Suite 103
McCook, NE 69001
308*344*9389
www.sewblessed.us

Hours:
Monday - Friday 10:00 - 5:30