Skip Navigation
Website Accessibility
Sew Blessed News - November 4th
- Happy Friday Friends -

I hope this beautiful sunny day finds you all well! It's been a little crazy this week for me...but it's Friday so I'm on the home stretch for the weekend! So for the next couple months the newsletter will come out in the afternoon-ish. So be sure to watch for it a little later in the day. We've got some fun NEW things in store! Also, don't forget our Food Pantry Drive - we are collecting items through next week!

Upcoming Shop Events:
October 24th - November 9th: Pantry Drive
November 8th: Mystery Lady Night
November 10th: Apple Cider Market Tote Class - DATE CHANGE
November 12th: Woolie Saturday
November 15th: Stash Busters
November 24th & 25th: Closed for Thanksgiving


We've rescheduled our tote class! It's not to late to join us! If you're looking to get started on that homemade gifts Christmas list - consider making this for a friend or family member!

Class Date: Thursday, November 10th
Instructor: Sue Chipman
Class Fee: $15.00 with purchase of kit OR
$35.00 with your own fabrics
Pattern: $10.00
Kit: $40.00
Zipper and Interfacing needed
Class Size: 10
Sewing Level: Beginner to Advanced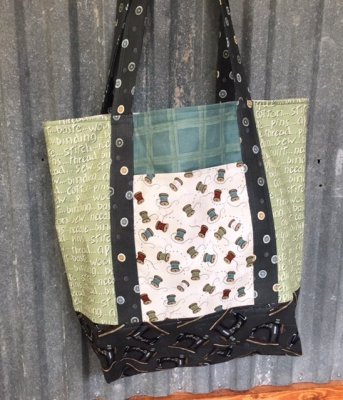 If you are interested in signing up for this class give us a call 308*344*9389 or stop on by! We would love to have a fun day with you!

Are you in the mood for a little Christmas sewing? Check out this month's Sew Blessed Spotlight! The beautiful Winter Blessings Line by Kim Diehl is featured at $8.99 per yard! Don't forget to check out the darling panel, where you can make two stockings and a door hanger!




A NEW darling pattern arrived yesterday! We are so in love with these scrappy pumpkins! (Plus, they are fat quarter friendly!) Stop in to see them and other patterns in store by Cluck Cluck Sew.




Are you a beginner sewer or have a beginner sewer at home? Check out this fun and easy quilt made with Arctic Antics flannel. Kits & fabric line available in store and online!




Don't forget to grab your patter or kit from October 15th - December 31st for Wooly Block Adventure! Collect a free pattern for an 8" block, then piece your blocks together and bring it in to a participating shop! Here's a peek at our block: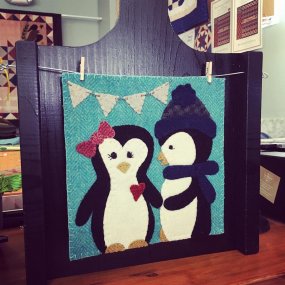 For more information on Wooly adventure or to see participating shops visit: https://www.rowbyrowexperience.com/wooly.htm or check out Wooly Adventure on Facebook. Mail order blocks will ship out in February - so if you love it and can't get to us, give us a call and we will add you to our list!

My littles had a great time trick-or-treating or as Colton was doing trick-or-"trading"! I've made a list of the Christmas sewing projects I want to finish up for gifts this year...so far I've crossed two off the list! Here's to a weekend of sunshine and sewing!

See you soon!
Kif & Ashlee
402 Norris Ave
Suite 103
McCook, NE 69001
308*344*9389
www.sewblessed.us

Hours:
Monday - Friday 10:00 - 5:30