Sew Blessed News - November 11th
- Happy Veteran's Day to you -

We would first like to give a little thanks for all of those service men and women who have served and continue to serve to protect our freedoms. With out you we wouldn't be the Land of the Free because of the Brave! I hope this beautiful day finds you all well. I've been preparing for company with baking, cleaning, & a little sewing on the side! I do have to have a chuckle this week as I cleaned in my sewing room and have found the my UFO list might have doubled...so here's to knocking some more things off my list! We have a few NEW things in shop so let's get to it:

Upcoming Shop Events:
November 12th: Woolie Saturday
November 15th: Stash Busters
November 24th & 25th: Closed for Thanksgiving
December 1st: Honey Bee Lane Open Sew
December 2nd & 3rd: Tasting on the Bricks
December 3rd: Woolie Saturday
December 6th: Mystery Lady Night - woolie friends welcome!
December 13th: Stash Busters
December 31st: Old Bag - Shop Hop Day


We have some beautiful NEW woolie kits out! Check out this Give Thanks by Buttermilk Basin. These big pieces will sew up quick!




Old McAnderson had a farm...and on his farm he had some quilt fabric! Check out this fun line from Henry Glass & Co. featuring fun farm animals and a quiet book panel!




Also, NEW in the latest issue of BLOCK magazine. This issue is jam packed with fun fall projects to warm your heart! Stop by and grab your issue today!




Mark your calendars for an upcoming event - Tasting on the Bricks!
December 2nd & December 3rd, grab a punch card at a local participating business, get it stamped at all the shops, then be entered to win one of many prizes! This is also our anniversary weekend...so stay tuned for some AwEsOmE savings!

Check out this month's Sew Blessed Spotlight! The beautiful Winter Blessings Line by Kim Diehl is featured at $8.99 per yard! Don't forget to check out the darling panel, where you can make two stockings and a door hanger!





Don't forget to grab your patter or kit from October 15th - December 31st for Wooly Block Adventure! Collect a free pattern for an 8" block, then piece your blocks together and bring it in to a participating shop! Here's a peek at our block: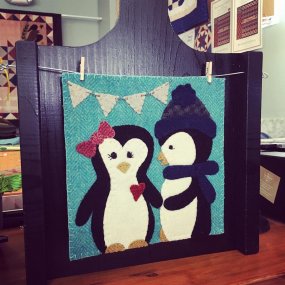 For more information on Wooly adventure or to see participating shops visit: https://www.rowbyrowexperience.com/wooly.htm or check out Wooly Adventure on Facebook. Mail order blocks will ship out in February - so if you love it and can't get to us, give us a call and we will add you to our list!

This weekend is Woolie Saturday - so grab a friend come on by and work on your current project or come learn wool applique. Who knows the woolie bug just might get you too! Have a blessed weekend!

See you soon!
Kif & Ashlee
402 Norris Ave
Suite 103
McCook, NE 69001
308*344*9389
www.sewblessed.us

Hours:
Monday - Friday 10:00 - 5:30