Skip Navigation
Website Accessibility
Sew Blessed News - November 18th
- Happy snow covered morning to you -

We got a little dusting of snow last night - it is sure pretty. Mr. Grayson said "Mom, it snowed. Santa can come now. It's Christmas!" Oh he melts my heart! I did some baking while it was cold yesterday...the house smelled so wonderful. I'm officially in the mood for the holidays! We have a few NEW things in shop so let's get to it:

Upcoming Shop Events:
November 24th & 25th: Closed for Thanksgiving
December 1st: Honey Bee Lane Open Sew
December 2nd & 3rd: Tasting on the Bricks
December 3rd: Woolie Saturday
December 6th: Mystery Lady Night - woolie friends welcome!
December 13th: Stash Busters
December 31st: Old Bag - Shop Hop Day

Mark your calendars for an upcoming event - Tasting on the Bricks!
December 2nd & December 3rd, grab a punch card at a local participating business, get it stamped at all the shops, then be entered to win one of many prizes! This is also our anniversary weekend...so stay tuned for some AwEsOmE savings!



A NEW book from One Sister Designs arrived - Back Porch Quilts! This book does not disappoint - mixing wool applique and cotton applique, create beautiful projects you will love!




We have a NEW sample up! Check out the beautiful wool applique on flannel wall hanging - Star of Yesterday.




We've also got a beautiful NEW quilt kit out called Tiles & Lattice featuring Stonehenge Gradiations in beautiful neutral tones. I'm thinking this will make a wonderful masculine quilt!




Don't forget to grab your patter or kit from October 15th - December 31st for Wooly Block Adventure! Collect a free pattern for an 8" block, then piece your blocks together and bring it in to a participating shop! Here's a peek at our block: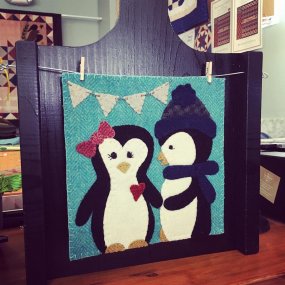 For more information on Wooly adventure or to see participating shops visit: https://www.rowbyrowexperience.com/wooly.htm or check out Wooly Adventure on Facebook. Mail order blocks will ship out in February - so if you love it and can't get to us, give us a call and we will add you to our list!

If you are thinking about making some quick Christmas quilts, we have a variety of Villa Rosa kits & patterns available. These are fun, simple, & easy to do! We also have a variety of small wool applique projects you could make for a loved one. And don't forget we have gift certificates available for those quilters in your life!

The boys are excited, their Nana & Papa Sintler are coming to visit this weekend! I'm sure I will have time to sneak in some sewing in between games of cards! Have a blessed weekend!

See you soon!
Kif & Ashlee
402 Norris Ave
Suite 103
McCook, NE 69001
308*344*9389
www.sewblessed.us

Hours:
Monday - Friday 10:00 - 5:30