Sew Blessed News - December 2nd
- Happy December morning to you -

It feels like we haven't visited in awhile! I hope you all had a wonderful Thanksgiving. We enjoyed seeing our family...I know the boys are still asking where Papa Jim, Grandma Leila, & Aunt Kay Kay are and when we get to see them again! I was glad to have them so I could get some shop planning done - because it is our 2 YEAR ANNIVERSARY - AND WE ARE SO EXCITED!! We are super blessed to be here and we want to give you our customers a HUGE thank you for your support! So be sure to stop in today or tomorrow and take part in our
Anniversary Sale:
Buy 1 yard of fabric get 1 50% off (minimum 1 yard cuts)
Buy 1 book, pattern or fat quarter bundle get 1 50% off
All in stock regular price quilt kits and wool kits are 25% off!

If you aren't local but would still like to save - check out our website www.sewblessed.us and give us a call 308*344*9389! We would love to share the savings with all of you!

Now for the rest of the shop news:

Upcoming Shop Events:
December 2nd & 3rd: Tasting on the Bricks
December 3rd: Woolie Saturday
December 6th: Mystery Lady Night - woolie friends welcome!
December 13th: Stash Busters
December 31st: Old Bag - Shop Hop Day

Mark your calendars for an upcoming event - Tasting on the Bricks!
December 2nd & December 3rd, grab a punch card at a local participating business, get it stamped at all the shops, then be entered to win one of many prizes!

We've been feeling a little bit festive around here! Check out these gorgeous Christmas & Holiday quilts on display in the store! We hope you will stop in to see them - pictures really don't do them justice!





Woolie girls tomorrow is your day - meet in the shop at 10:00 am for a fun filled sew-in! Bring a pot luck item if you plan to stay for lunch!




There is one more month to get your Wooly Block Adventure kits and patterns! Collect a free pattern for an 8" block, then piece your blocks together and bring it in to a participating shop! Here's a peek at our block: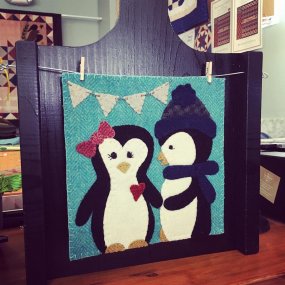 For more information on Wooly adventure or to see participating shops visit: https://www.rowbyrowexperience.com/wooly.htm or check out Wooly Adventure on Facebook. Mail order blocks will ship out in February - so if you love it and can't get to us, give us a call and we will add you to our list!

The quilting ladies are here and ready to help you this weekend! We hope you will stop in and say hello! Goodies and tea are being served! Blessings to you!




See you soon!
Kif & Ashlee
402 Norris Ave
Suite 103
McCook, NE 69001
308*344*9389
www.sewblessed.us

Hours:
Monday - Friday 10:00 - 5:30