Skip Navigation
Website Accessibility
Sew Blessed News - December 9th
- Happy December morning to you -

Are you enjoying this little snow we got? I am loving it...it really puts you in the Christmas spirit! Grayson asked me while we driving down the street yesterday: "Mom, why does the snow look like glitter?" Oh to have the wonder and amazement his little heart does!

We would like to thank you all for making our Anniversary Sale extra special! It was so great to see many of you and spend the day sewing with friends! We are truly blessed to be doing this - and we couldn't do all of this without all of you!

Upcoming Shop Events:
December 13th: Stash Busters
December 24th: Open 9:00 am to 12:00 pm
December 26th: Closed
December 31st: Old Bag - Shop Hop Day

A NEW Sew Blessed Spotlight Item is out - check out the gorgeous Serenity line!
$9.99 per yard
Pre-cut Strips $40.00




We are also excited to put out the fabulous NEW line from Little Red Hen called Bless This Home. This beautiful line would make great aprons, table runners, place mats, pillows, & more!




Looking for stocking stuffers or gift ideas for your quilting friends? Check out our variety of notions & our onsie bucket! We've just added some new items at great prices! Don't forget we do gift certificates! Let us help you this Christmas season!

A beautiful NEW sample is up - At Sea! This is a strip tube ruler friendly pattern finishing at 66" x 83"! (Which means it looks difficult but it's rather quite simple with the ruler!) Kits & patterns are available.




And for you woolie girls - check out this adorable St. Nicholas by Wee Woolies! This is a fun simple project to put you in the Holiday spirit!




There is one more month to get your Wooly Block Adventure kits and patterns! Collect a free pattern for an 8" block, then piece your blocks together and bring it in to a participating shop! Here's a peek at our block: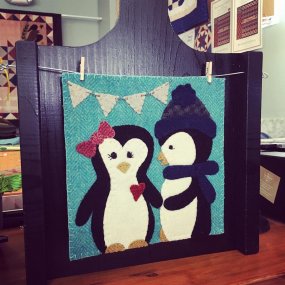 For more information on Wooly adventure or to see participating shops visit: https://www.rowbyrowexperience.com/wooly.htm or check out Wooly Adventure on Facebook. Mail order blocks will ship out in February - so if you love it and can't get to us, give us a call and we will add you to our list!

If you are over on our Facebook page - be sure to like a post every now and then so you can keep seeing the fun things we have to offer! I hope you all have a wonderful weekend. I've got a sick kiddo and I'm hoping to get him healed up quickly!

See you soon!
Kif & Ashlee
402 Norris Ave
Suite 103
McCook, NE 69001
308*344*9389
www.sewblessed.us

Hours:
Monday - Friday 10:00 - 5:30