Sew Blessed News - December 30th
- Happy Happy Friday -

How are you on this beautiful day? We have sunshine today but looks like a cold spell is headed for us soon! I survived all the Christmas company and managed to get a little sewing in. While grandma was here she taught me a new trick - crochet - mom says I've officially crossed to the dark side! We will see how long I stick with it....I do like my wool and quilting!! We've got some fun things to share with you all so here we go!

Upcoming Calendar Events:
December 31st: Old Bag - Shop Hop Day
January 5th: Honey Bee Lane Open Sew Night
January 10th: Mystery Lady Night - open sew night
January 14th: Woolie Saturday
January 17th: Stash busters - open sew night

Our little sewing elves have been busy! Check out this gorgeous table topper called Winter-ific! How fun is this!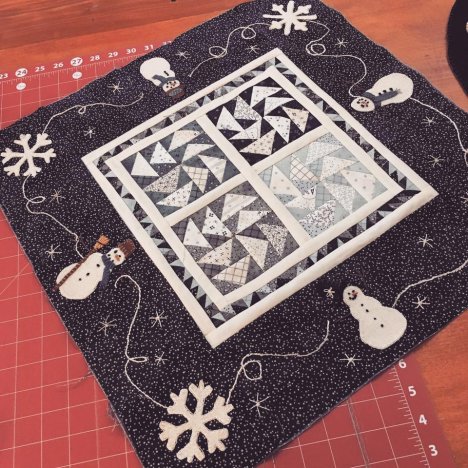 Have you seen the NEW Sew Blessed Spotlight Item? Check out the gorgeous Serenity line!
$9.99 per yard
Pre-cut Strips Originally $50.00 Sale price $40.00





If you saw the Home For Christmas Kit on our facebook page - we have sold out of it BUT we are in the process of getting it back in stock! If you are interested in one please give us a call 308*344*9389 or email juststichin2014@gmail.com - we would love to add you to the list of those who would like a kit or pattern!




Starting February 1st we will be offering a NEW Block of the Month program - Garden Whimsy by Timeless Traditions; Norma Whaley. We will be doing this as wool applique on cotton. More details will be rolling out next week!




Don't forget to follow us on Facebook & Instagram. Shop online 24 hours a day at www.sewblessed.us. In store pick-up is available!

I think our Christmas was a success! The boys loved having Uncle AJ home to wrestle and play! Grayson got his BIG blue monster truck he asked for from Santa and Colton got a BIG monster truck too! We wish you all a Happy NEW YEAR! Enjoy your weekend and I'll be seeing you in 2017!






See you soon!
Kif & Ashlee
402 Norris Ave
Suite 103
McCook, NE 69001
308*344*9389
www.sewblessed.us

Hours:
Monday - Friday 10:00 - 5:30