Sew Blessed News - February 16th
- Happy Thursday afternoon Friends -

Holy heat wave?! I missed visiting with you all last week but I had some family visiting so I spent the day with them! And I'm gone tomorrow so I thought I'll send you all a quick note today before I miss visiting with you all another week! So, besides being crazy busy getting things ready for Shop Hop 2017 - I've also been doing a little designing on the side! Meet our Mystery BOM - Count Your Blessings!




If you are interested in joining us for this fun here are the details! The pattern is available FREE in the Wool Applique group on Facebook. Each month on the 15th the new pattern will be released. You may also purchase kits for $10 from us plus $3 shipping if you are not local. They are available as singles on our website or you can sign up for monthly auto shipment by calling the shop 308*344*9389.

I've really enjoyed working on this little project - so who knows there may be a little more mystery coming in the future!

Upcoming Calendar Events:
February 21st: Stash Busters
March 1st - March 31st: Nebraska Shop Hop
March 2nd: Block of the Month - Open Sew
March 11th: Woolie Saturday
March 14th: Mystery Lady Woolie Night
March 21st: Stash Buster - Open Sew Night


We would like to invite you ladies who do block of the month programs with us to join us the first Thursday of the month in the shop to work on those programs! We meet from 6:00 - 8:30. This will be a great way to have time with fellow sewers, have help with your block if you need it, and keep up with your sewing. We can't wait to see you!

We've rolled out a NEW Spotlight Item for February - check it out!
Pie Making Day fabrics
Originally $10.99 Sale price $7.99/yard
Quilty Barn Quilt Kits
Originally $130.00 Sale Price $97.50
These bright and cheery fabrics are sure to make some fun Spring projects like aprons, wall hangings, and more! Come on in and check them out or see them online here.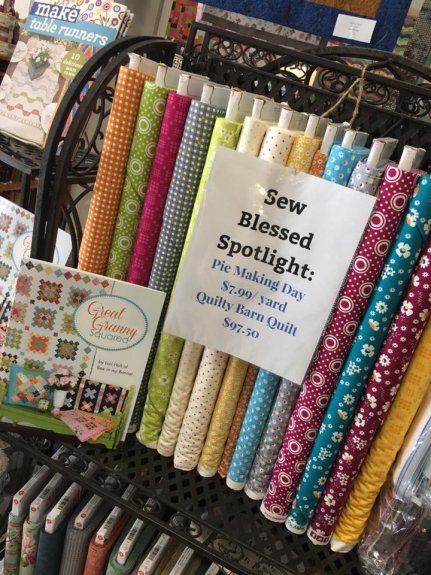 We've got some cute NEW patterns in! These door hangers are the cutest! Plus there are coordinating hexi candle mats to go along with it!




We also have more Bitty Banner kits ready by Lily Anna Stitches! Whip up this little May block just in time for Spring blooms to pop up!




Shop Hop 2017 is knocking on our door! Who is ready? The bags are here! Bags are $15.00 each. Remember you get a discount on 5th Saturdays if you bring your bag in! (The savings will pay for the bag!) Inside the bag is a finishing pattern for a Queen size quilt using the 6" blocks collected from each shop! You must purchase a bag to get this pattern - and it's lovely!

Here is the fabric! We are super excited about it - it's a great way to commemorate our state - Happy Birthday Nebraska! Since quantity of this exclusive fabric is limited, you may pre-order your fabric with us! Your card will be charged at the time of purchase to hold your fabric. Fabrics will be shipped or can be picked up AFTER March 1st!
Please place a separate order for any Shop Hop fabrics. Any items ordered with the pre-ordered fabric will be held and shipped after March 1st.
Don't forget to follow us on Facebook & Instagram. Shop online 24 hours a day at www.sewblessed.us. In store pick-up is available! And if you are currently doing BOM programs with us - be sure to stop by and pick those up!

Well I better get to tying up some loose ends before I take a vacation day tomorrow! I hear the mountains calling my name! Have a blessed weekend!

See you soon!
Kif & Ashlee
402 Norris Ave
Suite 103
McCook, NE 69001
308*344*9389
www.sewblessed.us

Hours:
Monday - Friday 10:00 - 5:30