Skip Navigation
Website Accessibility
Sew Blessed News - February 24th
- Happy Happy Friday Friends -

How pretty is the snow this morning? It is a bit chilly but it feels a little more like February should if you ask me! We are in full swing for Shop Hop! Today I'm finishing packing up kits and rolling out a couple NEW patterns! Be sure to check out the sneak peeks on our Facebook and Instagram! Let's see what is happening around the shop!

Upcoming Calendar Events:
March 1st - March 31st: Nebraska Shop Hop
March 2nd: Block of the Month - Open Sew
March 11th: Woolie Saturday
March 14th: Mystery Lady Woolie Night
March 21st: Stash Buster - Open Sew Night

If you are interested in joining us for this fun Mystery Block of the Month check out Count Your Blessings! The pattern is available FREE in the Wool Applique group on Facebook. Each month on the 15th the new pattern will be released. You may also purchase kits for $10 from us plus $3 shipping if you are not local. They are available as singles on our website or you can sign up for monthly auto shipment by calling the shop 308*344*9389.


There are still a couple days left to save with this month's Spotlight Item!
Pie Making Day fabrics
Originally $10.99 Sale price $7.99/yard
Quilty Barn Quilt Kits
Originally $130.00 Sale Price $97.50
These bright and cheery fabrics are sure to make some fun Spring projects like aprons, wall hangings, and more! Come on in and check them out or see them online here.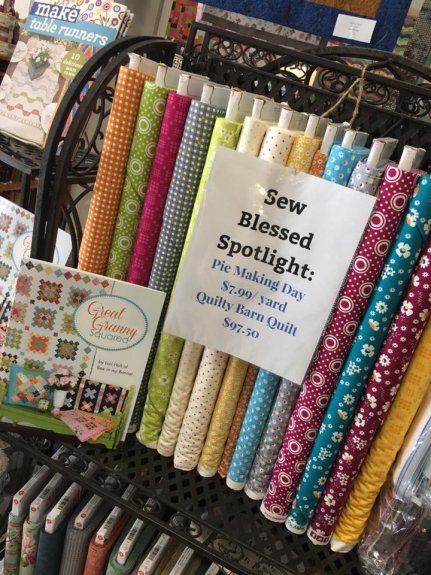 Hey woolie girls, we've rolled out some cute NEW packs you are going to love! Check out these Stash Packs! These packs are perfect for building your wool stash or for those super scrappy patterns where you need lots of variety in small pieces! Each pack contains 1 oz of different shades and textures of each color! Looking to make something with Spring flowers and leaves? Grab two stash packs and your project is underway! There are several color packs available in store and online!




We've also set out some NEW Spring patterns! Stop and see what's available!




For those of you who love BLOCK magazine - the newest issue is in! We are so in love with the cover quilt! (I think it may go on my list of projects to do!)




Shop Hop starts March 1st! Who's ready?? We are! We have so many cute things to reveal for you! Be sure to watch our Facebook and Instagram for some upcoming sneak peeks this weekend!

Here is the fabric! We are super excited about it - it's a great way to commemorate our state - Happy Birthday Nebraska! Since quantity of this exclusive fabric is limited, you may pre-order your fabric with us! Your card will be charged at the time of purchase to hold your fabric. Fabrics will be shipped or can be picked up AFTER March 1st!
Please place a separate order for any Shop Hop fabrics. Any items ordered with the pre-ordered fabric will be held and shipped after March 1st.
The mountains were just the refreshment I needed before Shop Hop! It's always great to see these ladies but it's always great to come home too! I hope you have a blessed weekend! Be sure to stop in and see us next week - it's going to be great!




See you soon!
Kif & Ashlee
402 Norris Ave
Suite 103
McCook, NE 69001
308*344*9389
www.sewblessed.us

Hours:
Monday - Friday 10:00 - 5:30