Skip Navigation
Website Accessibility
Sew Blessed News - March 10th
- Happy Happy Friday Friends -

We are hoppy hoppy hoppy around here with shop hop fun! And the weather has been beautiful the last couple of days to be out and about! We've also gotten some NEW products in and NEW kits out so let's see what is happening around here!

Upcoming Calendar Events:
March 1st - March 31st: Nebraska Shop Hop
March 11th: Woolie Saturday
March 14th: Mystery Lady Woolie Night
March 21st: Stash Buster - Open Sew Night

If you checked out our Facebook page yesterday - I did a little live video of a NEW product called Stick'n Stitch! This is perfect for your ladies who love to do embroidery, hand quilting, punch needle, or cross stitch! Using 3 simple steps you can transfer, stitch, and wash away your pattern!




We've also gotten a couple NEW beautiful woven fabrics in from Diamond Textiles! How fun are these stars in the background? We also got a dark maroon with black stars in the background!




Check out these funky NEW rulers - the 2 Peaks in 1 and the 45/90 Triangle! These rulers pair perfect with the beautiful Barn Dance pattern - watch for an upcoming video on our Facebook on how to use these rulers!




Happy Birthday Nebraska! Check out these two fun and easy Villa Rosa quilt designs featuring the beautiful Making History in Nebraska fabrics for Shop Hop 2017! Pictured on the left is Painted Moon and on the right is Tibet.




Did you know this year's fabric has some fun sayings on the selvedge? Check out our pillow designed using them- Home in the Heartland! Patterns & kits available.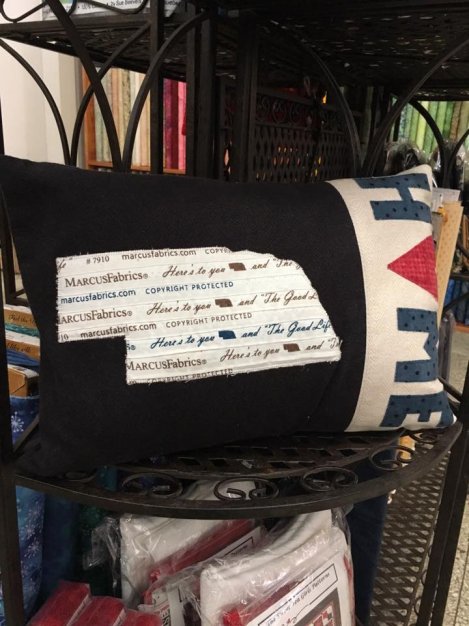 We are featuring another NEW design for Shop Hop - My Home Roots! This door hanger can be personalized to a special celebration year for you. Kits and patterns available!


We also have yardage & fat quarter bundles available of these beautiful fabrics!



If you are interested in joining us for this fun Mystery Block of the Month check out Count Your Blessings! The pattern is available FREE in the Wool Applique group on Facebook. Each month on the 15th the new pattern will be released. You may also purchase kits for $10 from us plus $3 shipping if you are not local. They are available as singles on our website or you can sign up for monthly auto shipment by calling the shop 308*344*9389.

I just finished stitching block 2 and I think you will love it!?!


We've been working hard on getting all of our Valdani updated and going on our website - so be sure to stop over there at www.sewblessed.us to check that out! Tomorrow is Woolie Saturday - so grab a project and a friend and come on by to stitch with us! We would love to have you!

Blessings for a wonderful weekend!


See you soon!
Kif & Ashlee
402 Norris Ave
Suite 103
McCook, NE 69001
308*344*9389
www.sewblessed.us

Hours:
Monday - Friday 10:00 - 5:30