Skip Navigation
Website Accessibility
Sew Blessed News - April 28th
- Happy Friday friends -

How are you on this rainy morning? The boys are wanting to watch movies and snuggle today. I can't say I blame them! The rainy weather is perfect for a day inside sewing! I'm getting all prepped and ready for a round robin event tomorrow in Ogallala. So if you are looking for something to do check it out:

2017 Quilter's Day Out
Saturday, April 29th
418 East 1st St
9:00 - 9:30 MST - Registration
4 Round robin sessions in the morning
Afternoon speaker: Peg Spradlin from Cozad, NE
FREE admission

We hope to see you there! We have some other fun things in at the shop so let's check them out!

Upcoming Calendar Events:

Saturday April 29th: Old Bag Day -
Bring in your shop hop bag for 20% off storewide

Thursday May 4th: Block of the Month night -
Bring any BOM you may be working on to sew with us

Tuesday May 9th: Mystery Lady Night
Bring any hand work project and hang out and sew

Tuesday May 16th: Stash Busters
Bust out that stash and bring any project to work on - in store shopping special for those who come to sew!

Last week to save on this month's Spotlight Item! Be sure to shop in and see our selection!




NEW Block of the month - Forest Floor



Here are the details:
12 month program
$23.50/month OR
$250 pre-pay
Kit includes pattern, quilt top fabric, & binding.
Program starts April 20th

If you are interested in joining us for this program - please be sure to pre-sign up so we know how many kits to prepare! Give us a call at 308-344-9389 or email us at juststitchin2014@gmail.com To see the gorgeous fabrics used click here!

For those of you who aren't local - we ship! Sign up for monthly auto-shipment by calling the store! We would love to add you to the list! Unsure of the difficulty level but love the quilt? Join us the first Thursday of every month to work on your blocks!

We've got a fabulous collection of NEW books & magazines in! Check out the latest in wool, vintage pieces, and spring sewing here!




We've got the latest in from Crabapple Hill Studio - Girls' Getaway! We've also got some gorgeous (and I mean gorgeous - go ahead check them out for yourself) Cosmo floss to go along with this fun pattern!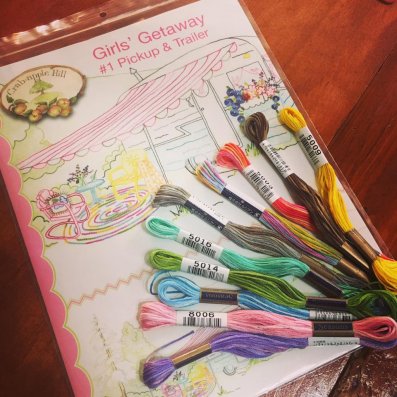 Count Your Blessings Block 3 has been released! How cute is this little guy?? And did you know the pineapple is the universal sign of welcome??




It's time to start thinking of Mother's Day gifts! Come check out our selection of patterns, kits, notions, and more! We would love to put a little gift package together for you - wrapping included!! Plus we also have gift certificates available too!

I'll be sharing all the NEW projects we will be showing this weekend next week! But until then - here's a sneak peek!! Have a great weekend and Happy Sewing!





See you soon!
Kif & Ashlee
402 Norris Ave
Suite 103
McCook, NE 69001
308*344*9389
www.sewblessed.us

Hours:
Monday - Friday 10:00 - 5:30