Skip Navigation
Website Accessibility
Sew Blessed News - May 5th
- Happy Cinco de Mayo -

Who's celebrating today with a little margaritas & pinatas? I'm celebrating Cinco de Mayo be sewing on some gorgeous jewel tone batiks - because nothing says Spring like bright colors! Plus this warm weather has me wanting to play with all the colors of the rainbow. We had a blast last weekend demoing the Strip Tube Ruler and making new friends! But we are back in the shop and have lots of fun things going on!

Upcoming Calendar Events:
Saturday, May 6th: Woolie Saturday - DATE CHANGE
Bring a hand project and hang out with us

Tuesday May 9th: Mystery Lady Night
Bring any hand work project and hang out and sew

Tuesday May 16th: Stash Busters
Bust out that stash and bring any project to work on - in store shopping special for those who come to sew!

We've got the first block of the NEW Block of the month - Forest Floor hanging up. Ladies this photo does not do these fabrics justice! Come by and check the gorgeous combinations of reds, greens, creams, & browns. Who knows you just may want to join in on the fun! (Plus we do ship if you can't make it in each month!)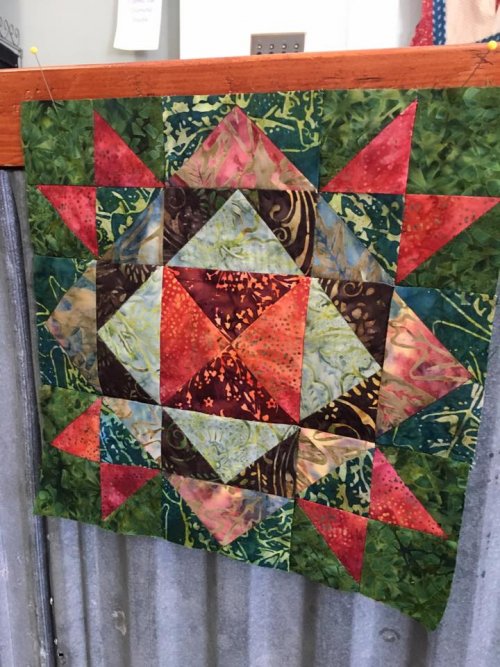 Here are the details:
12 month program
$23.50/month OR
$250 pre-pay
Kit includes pattern, quilt top fabric, & binding.
Program starts April 20th

If you are interested in joining us for this program - please be sure to pre-sign up so we know how many kits to prepare! Give us a call at 308-344-9389 or email us at juststitchin2014@gmail.com To see the gorgeous fabrics used click here!

For those of you who aren't local - we ship! Sign up for monthly auto-shipment by calling the store! We would love to add you to the list! Unsure of the difficulty level but love the quilt? Join us the first Thursday of every month to work on your blocks!

May also brings you a NEW Sew Blessed Spotlight Item! This month get the Strip tube rulers, patterns, books and kits all 25% off! PLUS come in on Fridays from 11:30-1:00 for a free demo on how to use the rulers. Demos last about 15-20 minutes. Come on by and learn how to turn those jelly rolls into beautiful projects using the Strip Tube system!




Tomorrow is Woolie Saturday and we hope you will come on by and sew with us for awhile. We've got some fun NEW wool kits out to show you! Like this Hearts All Year Long kit by Timeless Traditions. This beautiful project has a beautiful primitive look to it and is perfect to warm up any space.





It's time to start thinking of Mother's Day gifts! Come check out our selection of patterns, kits, notions, and more! We would love to put a little gift package together for you - wrapping included!! Plus we also have gift certificates available too!

My boys had fun making a snowman at nana & papa's house on Monday. He's even got some funky hair! If he could talk I think he'd have a Jamaican accent...'ey mon! Have a blessed weekend - enjoy the sunshine!




See you soon!
Kif & Ashlee
402 Norris Ave
Suite 103
McCook, NE 69001
308*344*9389
www.sewblessed.us

Hours:
Monday - Friday 10:00 - 5:30