Skip Navigation
Website Accessibility
Sew Blessed News - May 23rd
Happy Friday friends -

I must admit I was happy to have a little cool down last night! Those couple of hot days had me feeling a little too hot! But I was able to sneak down to my basement and sew a little...so that made it better! We have a few things happening around the shop so let's get to it!

Upcoming Calendar Events:
Saturday June 24th: Pamper & Press Class - Seats OPEN!
Thursday July 6th - Saturday July 8th: Crazy Days Sales
Saturday July 8th: Woolie Saturday
Tuesday July 11th: Mystery Lady night (bring any project to sew)
Tuesday July 18th: Stash Busters (bring your UFO to sew)

Pamper & Press is tomorrow! We still have two seats available! Call us to sign up today!
We will be making the beautiful Claudette by Villa Rosa Designs. This is a great project for a beginner quilter, a young quilter (must be accompanied by an adult), or if you are just needing a quick gift! Your kit will be pre-cut for you - all you do is come and sew for the day! Here are the details:

Saturday, June 24th
10:00 am - 3:30 pm
Class fee $15 (non-refundable)
Kit fee $55
Kit choices: Husker or Radiance
Class size: 10




There is one more week to save on this month's Spotlight item!
NEW Sew Blessed Spotlight
25% off all in stock books and magazines (excluding BLOCK)
Come by and check out the selection or shop here.




Mark your calendars for our upcoming CrAzY DaYs SaLe! Watch your email for what the crazy store specials will be!
Thursday, July 6th - Saturday July 8th

It's here! The NEW book by Rebekah L Smith - and woolie ladies you won't want to miss this book! Jam packed with gorgeous new projects for every season!




Last week I had the chance to go to a wool retreat with a good friend - and we got to meet the very lovely Rebekah L Smith! We had a blast! Have a fabulous weekend! Stop in and see us tomorrow!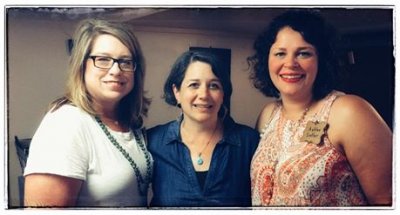 See you soon!
Kif & Ashlee
402 Norris Ave
Suite 103
McCook, NE 69001
308*344*9389
www.sewblessed.us

Hours:
Monday - Friday 10:00 - 5:30