Sew Blessed News - August 12th
Hello to you all on this beautiful Saturday!

We had company this last couple of days so I wasn't able to sneak away and send you all a message. The weather here has been gorgeous and the boys are loving every minute of playing outside...I can barely keep them in at night. We also have some exciting things happening around the shop to share with all of you!

Upcoming Calendar Events:
Saturday August 12th: Woolie Saturday
Tuesday August 15th: Stash Busters
Monday September 4th: Closed for Labor Day
Saturday September 9th: Woolie Saturay
Tuesday September 12th: Mystery Ladies
Tuesday September 19th: Stash Busters

Look for our upcoming Block of the Month:
Pride and Joy by Kim Diehl
6 part series finishing at 64 1/2" x 64 1/2" featuring the gorgeous Kim Diehl line Helping Hands. (Click the link to see!)
Currently taking preregistration so we know how many to order!
Call us at 308*344*9389 or email us at juststitchin2014@gmail.com for more information or to register today!




We've rolled out a NEW August Spotlight Item:

Select Kim Diehl fabrics $7.99 per yard. This is a great time to grab backings or pieces to fill in your collection! At this price they won't last long. Can't make it into the store? Check the sale fabrics out here.




We are also ready with the fun Here A Chick There A Chick in wool on flannel!
This is the cutest wall hanging to add to any kitchen or dining space!
Program runs 6 months
$20 per month OR $106.99 pre-pay
Kit includes background flannels, sashings, binding, wool, pattern & buttons.
Finished size: 36" x 42"

We also still have a couple of the laser cut pre-fused kits available too! Click here for more info.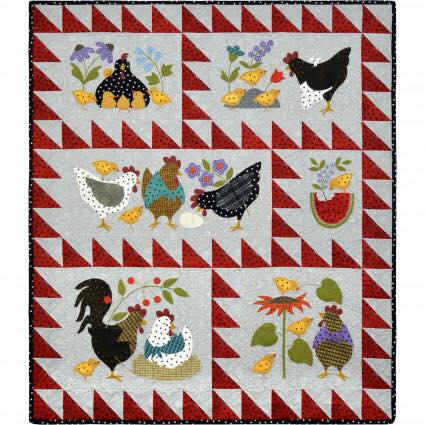 Row by Row has also begun! Check out this year's row!




Interested in doing Row by Row - find more information and participating shops here. Patterns are available free in store and kits are available too! Stop on by and check it out!

The latest issue of Wool Works magazine is here! This issue is jam packed with information on dying wool, rug hooking, applique and more! Snag your copy here or stop in and see us!




We've also got some huge savings in our sale corner! Stop on by and see the marked down kits, patterns, fabrics, and more! Check them out online by shopping here. There is a little something for everyone!




I hope you all have a wonderful weekend! It is woolie day so stop on in and see the girls today. I've got some school supply shopping to do this weekend. Mr. Grayson has open house on Monday and starts pre-school next week! He's getting so big and I'm so excited for him! We went to watch the truck and tractor pull at the Lyon County Fair last night. I think this picture sums up all our fun! (Just imagine him yelling cheese and pickles as mom snapped the picture!) Blessings!




See you soon!
Kif & Ashlee
402 Norris Ave
Suite 103
McCook, NE 69001
308*344*9389
www.sewblessed.us

Hours:
Monday - Friday 10:00 - 5:30