Skip Navigation
Website Accessibility
Sew Blessed News - August 25th
- Happy Friday friends -

We've survived our first full week of school! The weather has been wonderful and we have even had some rain. What a blessing. We've got a load of fun NEW things in store so let's check out what's happening! (Be sure to watch the upcoming calendar events as we will be closed a couple of days in September.)

Upcoming Calendar Events:
Saturday September 2nd: Closed for Labor Day Weekend
Monday September 4th: Closed for Labor Day
Saturday September 9th: Woolie Saturay
Tuesday September 12th: Mystery Ladies
Tuesday September 19th: Stash Busters
Saturday September 23rd: Closed for Heritage Days

We've kitted two NEW fun Halloween/fall patterns up! Check out Mr. Owl by Buttermilk Basin & Who's Hanging Around by Woolkeeper. Each of these kits feature some gorgeous fall wool colors and are quick and simple to whip up!




In the mood to piece a project? Check out this beautiful Forest Floor Table Runner kit. These beautiful fall colored batiks will make the perfect addition to any space!




The next block in the Count Your Blessings Mystery Block of the Month! I'm thinking mister blue bird and miss sheep have quite the friendship! See more blocks here.




Look for our upcoming Block of the Month:
Pride and Joy by Kim Diehl
6 part series finishing at 64 1/2" x 64 1/2" featuring the gorgeous Kim Diehl line Helping Hands. (Click the link to see!)
Currently taking preregistration so we know how many to order!
Call us at 308*344*9389 or email us at juststitchin2014@gmail.com for more information or to register today!




We are also ready with the fun Here A Chick There A Chick in wool on flannel!
This is the cutest wall hanging to add to any kitchen or dining space!
Program runs 6 months
$20 per month OR $106.99 pre-pay
Kit includes background flannels, sashings, binding, wool, pattern & buttons.
Finished size: 36" x 42"

We also still have a couple of the laser cut pre-fused kits available too! Click here for more info.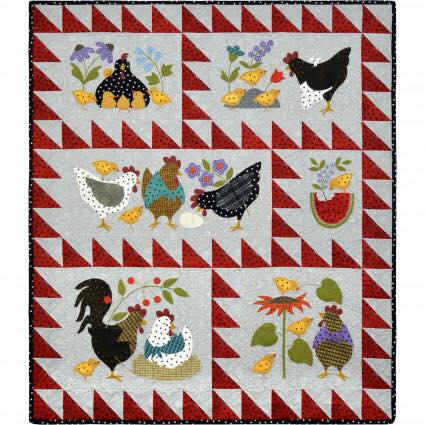 The clocking is ticking to get your Row by Row pattern & kit! Rows head into hibernation September 6th! Check out this year's row! We also haven't had a winner at our shop...so keep working away and bring in your finished quilt! We would love to share our prize with you!




Interested in doing Row by Row - find more information and participating shops here. Patterns are available free in store and kits are available too! Stop on by and check it out!

We went boot shopping last night. Needless to say I think these two are very happy with their picks! Have a wonderful weekend and don't forget it's quilting time! Blessings!




See you soon!
Kif & Ashlee
402 Norris Ave
Suite 103
McCook, NE 69001
308*344*9389
www.sewblessed.us

Hours:
Monday - Friday 10:00 - 5:30