Skip Navigation
Website Accessibility
Sew Blessed News - November 17th
Happy Friday Friends!

Mother Nature brought us some damp dreary weather today! She spoiled us yesterday with a beautiful day to be outside...the boys and I both loved it! Hopefully this little warm front we have will mean beautiful travel weather for everyone next week. Speaking of Thanksgiving - check out our shop hours for next week below! Let's see what else is happening around the shop...

Upcoming Calendar Events:
November: Pillow Case & Pantry Drive
Tuesday November 21st: Stash Busters Open Sewing Night
Wednesday November 22nd: Shop Hours 10:00 am - 3:00 pm
Thursday November 23rd: Closed for Thanksgiving
Friday November 24th: Closed for Thanksgiving
Saturday November 25th: Open for Small Business Saturday

Help us give during the month of November!
Pillow Case & Pantry Drive:
They are in need of boy and neutral pillow cases - so we would like to have you help us by making and bringing in 2 or more pillow cases! This is a great way to use up some of your stash you may not know what to do with while starting off the Holiday season with a great feeling of giving!
We also want to thank you for your help by giving you 20% off your purchase when you bring in two or more pillow cases!
Feeling extra giving? Bring in 3 or more items to donate to the pantry and receive an additional 10% off your purchase!

The next block in the Count Your Blessings Mystery BOM has been released! Next month we will see the final block and finishing...I can't wait! (I feel like it's a giant Christmas present for you all!)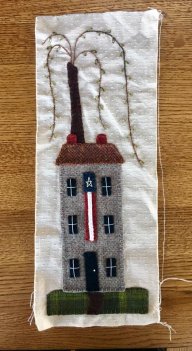 We have some fabulous fun items in for gifting to your quilt friends or for a fun stocking stuffer! Have a coffee drinking friend? Check out these darling coffee cups! Stuff them with fat quarters or other fun notions and a quick gift is ready!




Grab a tutu, a mason jar, some chocolate and viola another fun gift idea made! While you're at it grab one for your sewing room too! And don't forget the needle beetle!




Prefer to give a homemade gift? Check out these fun quick and simple pillow patterns by The Little Red Hen! (I'm loving the fun simplicity of these!)




We've also got some NEW fabric in! Where's my coffee girls?? Wouldn't this make a cute tote or table runner? We've also got a few more shades of Grunge in by Moda! Stop by and check them out!




Hopefully we can catch some more sunshine this weekend! The boys sure love it when we do! Blessings to you!




See you soon!
Kif & Ashlee
402 Norris Ave
Suite 103
McCook, NE 69001
308*344*9389
www.sewblessed.us

Hours:
Monday - Friday 10:00 - 5:30