Skip Navigation
Website Accessibility
Sew Blessed News - January 12th
Happy chilly Friday to you!

Mother Nature decided to let us have a little snow and ice these past couple of days...I guess she is telling us we should be inside snuggled in quilts or sewing! We've got some NEW fabrics and items in the shop I want to share with you all today!

Upcoming Calendar Events:
Saturday January 13: Woolie Saturday
Tuesday January 16th: Stash Busters
Saturday January 20th: Pamper & Press Class Polo Project
Friday & Saturday February 2nd & 3rd: Super Bowl Savings Sale
Saturday February 17th: Table Runner Class
March 1st to 24th: Nebraska Shop Hop

Have you seen our NEW Mystery Wool Applique BOM? It's called Faith, Family, & Friends!
Here's the details:
Faith, Family, & Friends
12 month program
Wool Applique on Flannel
Pattern can be found FREE for 30 days under the files of the Wool Applique group
OR can be purchased for $2.00
$12.00 kit only
$14.00 kit + pattern




We've also scheduled a Pamper & Press Class for January 20th! These classes are tons of fun and easy! We do all the cutting for you and the pressing while you sew! These classes are always great for young sewers (accompanied by an adult) or for you and a girlfriend. Space is limited so sign up today!

Project: Villa Rosa Polo
Date: Saturday January 20th
Class Fee: $10
Kit Fee: $45
Project finishes at 47" x 56"
Pictured below is the Polo quilt made using Blue Barn Prints by Laundry Basket. You may choose from any charm pack in store if blue isn't your color!




We've got a NEW shipment of brand new Villa Rosa Postcards! If you have never worked with any of these, they are quick, easy, and fun! The best part about her patterns is there is little to no waste! Check them out:




We've also got in some new fabrics from Me & My Sister Design called Confetti! If these fabrics don't sing Spring I'm not sure what does!?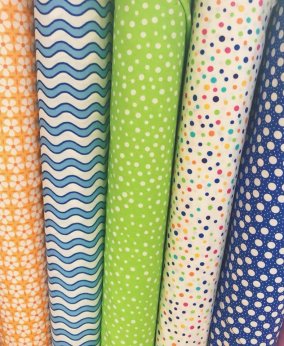 Don't forget about our Sale corner overflowing with NEW markdowns! Check it out here or stop by and see what we've added. Loads of yardage from $5.99 to $7.99 (there are some great pieces for quilt backs)




Tomorrow is Woolie Saturday - feel free to bring a project and a friend for a fun filled day of stitching! We start at 10:00 am! Plus I heard you will be able to see the latest from Primitive Quilts & Projects!




I hope you all have a nice relaxing weekend - stop by the shop and see us if you are looking for some fun!

See you soon!
Kif & Ashlee
402 Norris Ave
Suite 103
McCook, NE 69001
308*344*9389
www.sewblessed.us

Hours:
Monday - Friday 10:00 - 5:30