Skip Navigation
Website Accessibility
Sew Blessed News - January 26th
Happy Friday Friends!
I hope you all are having a wonderful day! We've been busy bees gearing up for Shop Hop 2018 and getting NEW things out on the floor! We are so excited for

Upcoming Calendar Events:


Friday & Saturday February 2nd & 3rd: Super Bowl Savings Sale


Saturday February 10th: Woolie Saturday (Open Sewing)
Tuesday February 13th: Open Sewing night
Saturday February 17th: Table Runner Class
Tuesday February 20th: Stash Busters (Open Sewing Night)
March 1st to 24th: Nebraska Shop Hop
- no classes due to Shop Hop

Join us for Open Sewing sessions in 2018!! Bring a friend and bring a project! Any project is welcome! When you attend any Open Sewing session your name will be entered into a prize drawing at the end of the month. Attend two sessions and be entered twice - who knows what kind of goodies we will be giving away??!!

We've been working on some projects to make us think of Spring/Summer and warmer weather! Check out the darling June Hexi Mat by Buttermilk Basin. Find this and other hexi kits here!




Have you seen our NEW Mystery Wool Applique BOM? It's called Faith, Family, & Friends!
Here's the details:
Faith, Family, & Friends
12 month program
Wool Applique on Flannel
Pattern can be found FREE for 30 days under the files of the Wool Applique group
OR can be purchased for $2.00
$12.00 kit only
$14.00 kit + pattern
$38 thread kit - now available in-store and online




The Nebraska Shop Hop fabric is here! Who doesn't love the postcards from Nebraska theme? Featuring pictures from all over the state and post marks from many post offices across the state - this fabric will make up some fun traveling projects!
Check out the fabrics here! See something you love, pre-order and reserve your fabric online with us. At the time of purchase your card will be charged, fabric can then be picked up on March 1st or will be mailed out to you!




Plus don't forget to reserve your Shop Hop bag with us! Call the shop for more information or stop on in!
Grab a bag for $15 and get the ability to hop, Shop, and collect free patterns at ALL 30 NE Shop Hop Shops, win prizes, AND receive a 20% discount on the 5th Saturday's of the following year at ALL 30 shops!




We had so much fun at Pamper & Press - we hope you will consider one of our upcoming classes! Have a wonderful weekend!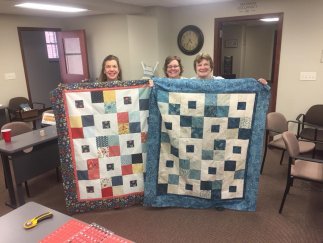 See you soon!
Kif & Ashlee
402 Norris Ave
Suite 103
McCook, NE 69001
308*344*9389
www.sewblessed.us

Hours:
Monday - Friday 10:00 - 5:30