Skip Navigation
Website Accessibility
Sew Blessed News - February 16th
Happy Friday friends -

This weekend is our fun class making the table runner! We have a few ladies signed up but there is still time to join us if you are interested! We've also got some fun things happening around the store as we are gearing up for Shop Hop! Let's check it out!

Upcoming Calendar Events:
Saturday February 17th: Table Runner Class
Tuesday February 20th: Stash Busters (Open Sewing Night)
March 1st to 24th: Nebraska Shop Hop - no classes due to Shop Hop

It's not to late to join us for this fun table runner class! We will be making the beautiful Stargazing Table Runner!
This stunning table runner is shown in biscuits & gravy fabrics but could easily be modified to fit your taste!
Class space is limited so register today!
Saturday February 17th
10:00 am to 4:00 pm
Class fee $10
Kit fee $36.49

This is a great class for expanding your quilting skills - grab a friend and sign up today!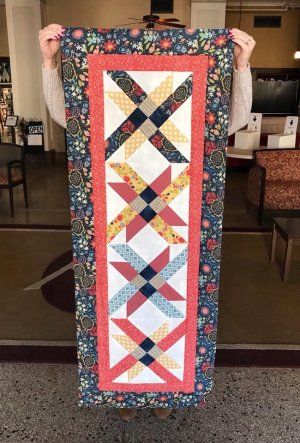 We've got a couple of beautiful NEW wool kits ready for Spring! Check out The Star Flower Basket Wool kit. We've mixed things up to bring you a bright cheery mat, with a cream background and beautiful purple flowers on top - this kit is a quick project to put you in the mood for Spring!




Check out On The Bright Side for another fun quick wool project! This one features beautiful birds on a cream background and is perfect for sprucing up any space!





You've all been waiting and it's finally here! The latest issue of Wool Works Magazine! Jam packed with tips and projects for working with wool! Grab a copy today! P.S. did you know the cover girl for this issue is the lovely Lisa Debord from North Platte??




The Nebraska Shop Hop fabric is here! Who doesn't love the postcards from Nebraska theme? Featuring pictures from all over the state and post marks from many post offices across the state - this fabric will make up some fun traveling projects!
Check out the fabrics here! See something you love, pre-order and reserve your fabric online with us. At the time of purchase your card will be charged, fabric can then be picked up on March 1st or will be mailed out to you!




Plus don't forget to reserve your Shop Hop bag with us! Call the shop for more information or stop on in!
Grab a bag for $15 and get the ability to hop, Shop, and collect free patterns at ALL 30 NE Shop Hop Shops, win prizes, AND receive a 20% discount on the 5th Saturday's of the following year at ALL 30 shops!



We got a shipment yesterday with some fun NEW books in it - watch our Facebook for a sneak peek of those!
Have a fabulous weekend - and if you are around stop in and see us!

See you soon!
Kif & Ashlee
402 Norris Ave
Suite 103
McCook, NE 69001
308*344*9389
www.sewblessed.us

Hours:
Monday - Friday 10:00 - 5:30