Skip Navigation
Website Accessibility
Sew Blessed News - March 10th
Happy Saturday to you!

I know I usually write on Friday but we had an unexpected guest - my brother dropped in and things got a bit crazy! So I first want to welcome all of the new ladies and gents who may be reading this for the first time! I hope you like to hear what we have going on. Remember there is always a link to the product we are talking about in blue or you can call and order from the store anytime! So let's see what fun NEW things are happening!

Upcoming Calendar Events:
March 1st to 24th: Nebraska Shop Hop - no classes due to Shop Hop
Classes & Open Sewing sessions will resume in April

Shop Hop is among us! Check out our hours for March here:
From March 5th - March 24th
Monday - Friday 10:00 am to 5:30 pm
Saturdays 10:00 am to 3:00 pm
Sundays Closed

If you will be traveling through and need us to stay a bit later - please feel free to call us during business hours! 308-344-9389

The Nebraska Shop Hop fabric is here! Who doesn't love the postcards from Nebraska theme? Featuring pictures from all over the state and post marks from many post offices across the state - this fabric will make up some fun traveling projects!
Check out the fabrics here! See something you love, pre-order and reserve your fabric online with us. At the time of purchase your card will be charged, fabric can then be picked up on March 1st or will be mailed out to you!



The last few Shop Hop bags remain - if you haven't gotten yours yet come on in and see us or call the shop to reserve yours!
Grab a bag for $15 and get the ability to hop, Shop, and collect free patterns at ALL 30 NE Shop Hop Shops, win prizes, AND receive a 20% discount on the 5th Saturday's of the following year at ALL 30 shops! Plus inside the bag you will find TWO finishing options to go along with your postcard patterns.




Guess what goes in those fun clear bags? A signature postcard from each shop! Visit all 30 stores to collect the cards. Each postcard features a 9" finished quilt block! Put all the blocks together for a fabulous Shop Hop quilt!




Also be on the look out for the official Shop Hop 2018 shirts! Available at select stores - including Sew Blessed!





If you haven't seen these little cuties over on our Facebook page - you will want to check them out! Using minky, flannel, or double gauze, we've whipped up some sweet little blankets and loveys. Who would be interested in a class or a demonstration? Let us know!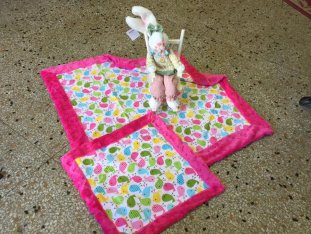 Travel season will be upon us soon! Whether you are traveling for classes or summer vacation we've got a couple of fun NEW products in for you!
Check out the Travel Size rotary! Perfect for tucking away in your bag!




Plus keep your eyes ready with this darling Lens Cleaning Kit! Perfect for tucking away in your purse or a fun little gift for a quilting friend!




For those of you who are sewing along with our Mystery BOM - the latest from Faith, Family, & Friends has been released! Kits are available! Remember the pattern is free for 30 days in the Wool Applique group on Facebook or may be purchased through us!




I know the boys were super excited to have someone besides mom and dad read them bedtime stories! It's always great to have Uncle AJ around! I hope you all have a blessed weekend. Safe travels to you Shop Hoppers!



See you soon!
Kif & Ashlee
402 Norris Ave
Suite 103
McCook, NE 69001
308*344*9389
www.sewblessed.us

Hours:
Monday - Friday 10:00 - 5:30