Sew Blessed News - June 8th
Happy Friday Friends!

I hope the sunshine finds you all well today! We are crazy with t-ball starting this week...some how I got roped into being the head coach so I'm responsible for 11 toddlers! Eeeekkk - this should be fun! Let's see what's new around the shop.

Upcoming Calendar Events:
Saturday, June 9th - Curvy Log Cabin Ruler Class
Tuesday, June 12th - Open Sew
Tuesday, June 19th - Open Sew
Saturday, July 21st - Pamper & Press
Bring a friend and join us for any of our open sewing sessions!

Tomorrow is our Curvy Log Cabin Ruler class - there is still room for anyone who is looking to make a fun project! Give us a call to get signed up!

Did you see in the schedule above that we put the Curvy Log Cabin Ruler class on the schedule?? We've had several people ask for a class on using this ruler so here it is:
Saturday June 9th
10:00 am start
Class Fee: $5
Project: Roundabout Table Runner
Kit: $37.95
Ruler: $19.99

If you have questions or would like to reserve your seat for the class - feel free to give us a call at 308-344-9389 or stop by the shop and see us!




Mark your calendars for Row by Row 2018! This year's theme is Sew Musical - starting June 21st to September 4th stop in any participating Row by Row shop to collect a pattern and kit if you choose! This year we are also excited to announce we will be participating in Junior Row by Row for those ages 6-14 who love to sew! Check out our projects below!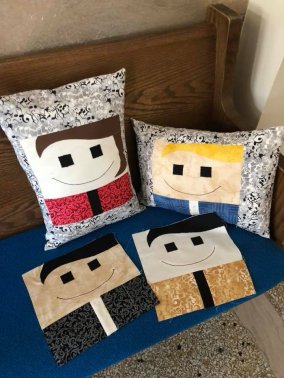 Our next summer class is scheduled! Check out the details below!

Ninja Stars Pamper & Press Class
Saturday July 21st
10:00 am start
Class Fee: $10
Project: Ninja Stars by Villa Rosa Designs
Kit fee: $65.99

If you don't love the fabric but you love the project - stop in and see us to work out the details! We would love to have you!




Looking for a fabulous homemade gift? Check out these fun NEW wallets we have in stock! I grabbed one for a birthday present for a girlfriend and these are fabulous!




Welcome Home wall hanging or woolen runner by Buttermilk Basin has just arrived! Add a new little center for each month. Woolie ladies who wants to make these together? If you are interested in doing these as a club - let us know!




We've also gotten Buttermilk Basin's Simply Scalloped series in! Make these into a fun oval mat or circles!




I hope you all have a fabulous weekend! It's supposed to be around 100 here this weekend...I think it will be a great time to hide in the basement and sew! Blessings to you!

See you soon!
Kif & Ashlee
402 Norris Ave
Suite 103
McCook, NE 69001
308*344*9389
www.sewblessed.us

Hours:
Monday - Friday 10:00 - 5:30