Skip Navigation
Website Accessibility
Sew Blessed News - June 29th
Happy Friday Friends!

Holy heat wave! Our heat index reached 110 yesterday - needless to say I hid in the basement and worked on a little cleaning in my quilting room! I hope it's nice and cool where you are - it's nice and cool in the shop so come on in and see what we have going on...

Upcoming Calendar Events:
Tuesday, July 17th - FREE Open Sew
Thursday, July 12 to Saturday July 14th - CrAzY DaY SaLeS
NEW Saturday, 14th - FREE Open Sew Saturday
Saturday, July 21st - Pamper & Press (FULL)
Bring a friend and join us for any of our open sewing sessions!

Mark your calendars for Row by Row 2018! This year's theme is Sew Musical - starting June 21st to September 4th stop in any participating Row by Row shop to collect a pattern and kit if you choose! This year we are also excited to announce we will be participating in Junior Row by Row for those ages 6-14 who love to sew! Check out our projects below!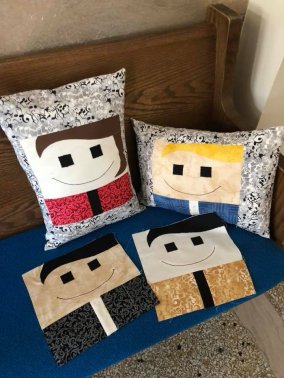 Our next summer class is scheduled! Check out the details below!

Ninja Stars Pamper & Press Class
Saturday July 21st
10:00 am start
Class Fee: $10
Project: Ninja Stars by Villa Rosa Designs
Kit fee: $65.99

Ombre, ombre, read all about it! Just in gorgeous NEW ombre fabrics on the bolt, ombre patterns, AND ombre confetti jelly rolls! If you are interested in sewing an ombre quilt with us - let us know! If we have enough we will put a sewing session together!




Does anyone else start their list of Christmas sewing projects in July? Well if you do then you are going to love this gorgeous metallic line - White Christmas by Zen Chic! And who doesn't love this Mega Star pattern!




NEW books & magazines have hit the floor! Check out the latest from Kim Diehl and Simply Vintage!




You know July always brings our Annual CrAzY DaY SaLeS - so watch for an upcoming newsletter with sale information!

We had a blast on our mini vacation - I think we are all a little tuckered out! Have a blessed weekend and stop in and see these fabulous NEW products in store!




See you soon!
Kif & Ashlee
402 Norris Ave
Suite 103
McCook, NE 69001
308*344*9389
www.sewblessed.us

Hours:
Monday - Friday 10:00 - 5:30