Skip Navigation
Website Accessibility
Sew Blessed News - Ausgust 10th
Hello friends!

It's Fri-YAY! Does anyone else feel this way? Things have been sooooo crazy busy for us that I haven't had a chance to write you all! So today will have lots of fun NEW announcements: like an upcoming class, new BOM and more! Let's check it out!

Upcoming Calendar Events:
Saturday August 11th: Open Sew Day!
Tuesday August 14th: Evening Open Sew
Saturday August 25th: Fall Table Topper Class
Bring a friend and join us for any of our open sewing sessions!


The next Faith, Family, Friends Mystery BOM has been released! Eeekk! We have kits available - check it out here! It's not to late to join in the fun on sewing these quick little blocks...there are only a few more months before we will reveal the finished project!!




Our next class has been scheduled! We will be making this fun Disappearing Pinwheel Basket table topper! (Or use it as a wall hanging, make it larger - or add it to the pile of homemade Christmas gifts!) Here is the details:

Class: Disappearing Pinwheel Basket
Date: Saturday August 25th
Class Fee: $10
Kit Fee: $25.99 plus book ($5.99)
This fun pattern can be found in the Block Spring Vol 5 Iss 2!

We've done the project in beautiful fall colors but you could do any color combination you love! Come on by and see us to sign up today! (Plus we will show you how to use the LocBloc rulers!)




Mark your calendars for Row by Row 2018! This year's theme is Sew Musical - starting June 21st to September 4th stop in any participating Row by Row shop to collect a pattern and kit if you choose! This year we are also excited to announce we will be participating in Junior Row by Row for those ages 6-14 who love to sew! Check out our projects below!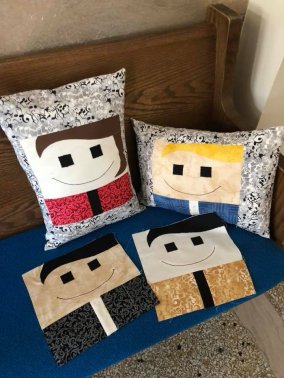 Check out our NEW Block of the Month program - Mineral Matrix! This stunning quilt finishes at 104" square! Made with beautiful stone colored batiks in browns, greens, taupes, and blues - this quilt is the perfect spread for a large bed!
Here are the details:
Project: Mineral Matrix
Size: 104" square
Price: $22.50 per month OR $247.50 pre-pay




We are gearing up for Fall projects you may want to make to decorate your home! Check out this beautiful Fall Welcome woolie table runner from the latest Primitive Quilts & Projects magazine!




I hope you all have a fabulous day! We will be enjoying the county fair this weekend here in Kansas and maybe taking in a few more splashes at the pool before school starts! (And maybe a little kite flying too!)






See you soon!
Kif & Ashlee
402 Norris Ave
Suite 103
McCook, NE 69001
308*344*9389
www.sewblessed.us

Hours:
Monday - Friday 10:00 - 5:30