Sew Blessed News - November 10th
Hello friends!

I didn't have a chance to write yesterday as things were a bit crazy with kiddos and I was a little under the weather! But we have some NEW exciting things to announce including...a brand NEW Block of the Month program coming in January! So let's see what's happening!

Join us for Open Sew Saturday & Open Sew Night to work on finishing those homemade gifts you have for the Holidays! Bring any project you like and a friend for the fun.

Upcoming Calendar Events:
November 10th - November 30th: Annual Pantry Drive - see details below!
Tuesday, November 13th: Open Sew Night
Wednesday, November 21 - Saturday, November 24th: Closed for Thanksgiving
Friday & Saturday December 7th & 8th: Tasting on the Bricks

It's time for our annual pantry drive! Did you know our McCook Pantry has around 1,000 people they serve? On average around 200 or more visit the pantry in 1 month. Not only do they serve residents of Mccook, they also serve the southwest area - helping people from Kansas to North Platte! This year we ask you to bring in 2 sacks of groceries and receive 20% off your purchase! They are specifically in need of powdered milk, canned fruits and vegetables, and other non-parishable items! Next time you go for groceries, grab a couple extra items and help us help those in need!

We've added some lovely NEW pieces to our blenders section! Check out these gorgeous teal and coral fabrics!




Look what just arrived - the patterns and strips for Jelly Roll rugs! We currently have a Facebook post going to see interest in a class for this...head on over there to drop your comment! Then stop in and get your supplies to make one today!




Our NEW block of the month program we are so excited to announce is....Amish with a Tist IV
This gorgeous project features solid fabrics in a beautiful timeless pattern by Nancy Rink! Doesn't the color placement offer a beautiful floating dimension? Here's the details:

Program: Amish With a Twist IV
Starts: January 2019
Pricing: $15 per month OR $165 pre-pay
Finished project size: 88" x 98"
Pricing includes pattern, quilt top fabrics, and binding.

Spots are limited - so be sure to reserve yours today!




We even have a couple of the blocks up on display!




The next Faith, Family, Friends Mystery BOM has been released! Stop on in and grab your block or check them out online! Next month we will reveal the finishing and I am so excited to show you it to you!! Watch for more information about a Mystery block with us next year! We hope you will join us!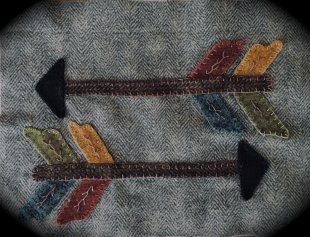 Wooly Block Adventure has begun! Check out our block! Kits are available in store - the pattern is FREE for those who stop in the shop! If you aren't local you can purchase both kit and pattern online! To find out more about wooly block adventure visit: https://rowbyrowexperience.com/wooly-block-2/




We had sew much fun at Pamper & Press class last weekend - check out the photos from class on our Facebook page! (P.S. while you're there, write a quick review for our shop! It really helps our business grow!)

Have a blessed and warm weekend!

See you soon!
Kif & Ashlee
402 Norris Ave
Suite 103
McCook, NE 69001
308*344*9389
www.sewblessed.us

Hours:
Monday - Friday 10:00 - 5:30