Skip Navigation
Website Accessibility
Sew Blessed News - August 10th
Hello Friends!

It is almost Schoolhouse Shuffle time! Who is joining us for the upcoming fun??? Have you stopped in to get your report card yet?? We have them at the counter! It's going to be a great time! We've been working around the shop and we've got NEW samples out and fun NEW displays. So let's see what's going on!

Upcoming Events:
Tuesday August 13th: Open Sewing, starts at 6:00 pm
Tuesday August 20th: Open Sewing, starts at 6:00 pm
August 15th - August 24th: School House Shuffle
Monday, September 2nd: Closed Labor Day
October 24th - October 26th: Rebekah L. Smith Retreat - SPOTS AVAILABLE!!

We are super excited to be a part of the School House Shuffle in August! Join us and 8 other central Nebraska shops for a fun little shuffle! Collect FREE patterns, see a demo, & register to win!




A new shipment of books has arrived! We've got everything from table runner books to woolie books and more! Here's a couple of our favorites!

Make a hatched and patched Christmas with Season's Greetings by Anni Downs! This fun book features tons of fun whimsical feeling Christmas projects!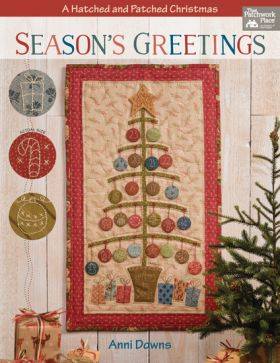 The latest from Jo Morton is here! Hearth & Home is full of reproduction quilts from wall hangings to throws! Pick one up along with some Kim Diehl fabrics today.




For those who love a little more color check out the latest from Sherri L McConnell & Corey Yoder -Sunday Best features 12 quilts that you'll love forever!




Where are my hand stitching ladies at? You are going to love this gorgeous Christmas embroidery book - Stitches from the Yuletide by one of our favorites Kathy Schmitz!




All these books can be found online at www.sewblessed.us or in the shop! And remember we are just a phone call away for your orders!

We hope you have a fabulous weekend! It's time for me to go help mom hang some more pretties!
See you all soon!
Kif & Ashlee
402 Norris Ave
Suite 103
McCook, NE 69001
308*344*9389
www.sewblessed.us

Hours:
Monday - Friday 10:00 - 5:30