Sew Blessed News - Let's Bee Inspired!
Happy Monday to you...ok, ok I know it's Tuesday! I forgot to hit send yesterday so here it is Tuesday and it's time for the Sew Blessed News!

If you joined us on Tuesday Night live, you saw these beautiful NEW batik pre-cuts last week. The yardage has arrived that coordinate with them. Batiks are my weakness so I'm dreaming of all the fun things I can make with these...like a fresh spring table runner! Check out Malibu Batiks by moda here.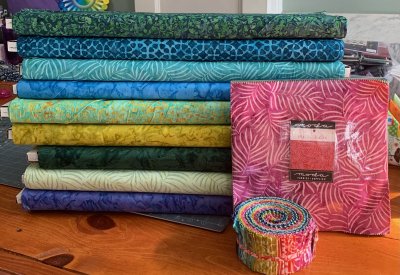 Another fun line has arrived in the store...Redwork Gatherings by Primitive Gatherings - features beautiful reds and creams. Don't forget to check out her latest book; Fun, Friends, & Fat Quarters! These traditional fabrics are stunning, stop in and see them sometime!




Join us for our Tuesday night LIVE sales! Each Tuesday at 7:00 pm CST on our Facebook page - mom goes live and shares new fabrics, kits, sale items, and so much more fun!
What is this you ask?
A 30 - 45 minute shopping live where we show fun new projects, fabrics, and so much more! See you tonight!




Our quilting friends have done it again! Coming to your local quilt shop:
Bee Inspired as you visit seven Central Nebraska Quilt Shops March 24th-April 17th! You'll Bee in the Know with demonstrations as you buzz around our hive. Enter a drawing at each shop for a chance to Bee Lucky and win a $25.00 gift certificate. Collect free patterns at each shop to make our Bee Inspired Quilt. We're keeping it simple - no need to register, no fees - just FUN! Hope you will BEE joining us! Share the BUZZ with all your friends!

We will also be sending a t-shirt pre-order out later this afternoon...so be on the lookout for that!




Watch for a second email later today with more info on the t-shirt pre-order and the Bee Inspired project! I hope you can get out to enjoy the sunshine today...I know Peyton and I are going to walk the dog while it's nice here in Sidney. I heard we have snow on the way!!

See you soon!
Kif & Ashlee
402 Norris Ave
Suite 103
McCook, NE 69001
308*344*9389
www.sewblessed.us

Hours:
Monday - Friday 10:00 - 5:00