Skip Navigation
Website Accessibility
Sew Blessed News - Are you ready for the Firecracker Sale?
Hello, hello quilty friends!
It's almost time for our Firecracker Sale! Store hours during these three days are:
Thursday, July 1st 10:00 am - 5:00 pm
Friday, July 2nd 10:00 am - 5:00 pm
Saturday, July 3rd 10:00 am -1:00 pm

We have lots of great things to show you, including some of our favorite patriotic patterns and fabrics.

We are getting crazy around here with our first ever Firecracker Sale!
Mark your calendars to join us Thursday, July 1st - Saturday, July 3rd for lots of great boom, boom pricing!

Boom, Boom Sale Fabric section*:
1 yd $6.99/yd
2-3 yd $5.99/yd
End of bolt $4.99/yd
*pricing per individual bolts, bolts can not be combined

Sparkling Patriotic Section:
Includes new fabrics, patterns, and kits in store
20% off

PLUS other surprise markdowns in store only!

Please note, no other offers or coupons can be combined with the Firecracker Sale.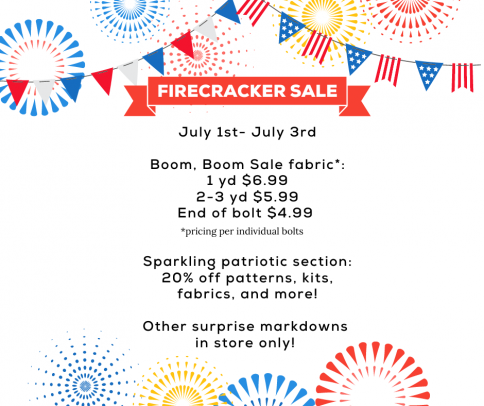 Grab a friend and come on in to see us!
It's going to be a popping good time!
Kif & Ashlee
308*344*9389
www.sewblessed.us

Monday - Friday 10:00 - 5:00
Saturday 10:00 - 1:00

Find us on Facebook and Instagram!