Woolkeeper House on Daisy Hill Kit
by Woolkeeper and Sew Blessed
Woolkeeper House on Daisy Hill kitted with wool in yellow,
"blue"
, red, green and browns. Background fabric is a plaid homespun. Finished size 6"x12"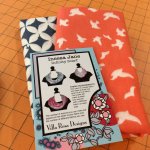 Inessa Jane Infinity Scarf Kit
by Villa Rosa Designs
Inessa Jane Infinity Scarf by Villa Rosa Designs featuring Whispers Double gauze Batiks Glow or Dusk. Glow orange with doves and Dusk is
"blue"
with geometric design. 100% Cotton 44-45" wide. Kit includes pattern and fabric to make scarf.
$5.00
Little Quilts Squared Sept Kit
by the Wooden Bear & Sew Blessed
Little Quilts Squared September-Moonlight Hoot Kit This adorable owl kit contains green plaid flannel, wools in shades of
"blue"
, cream, mustard, grey and rust. Pattern is included in this kit. This kit can be made into a calendar or a quilt Finished siz
$27.00