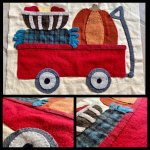 Beauty N Check
by Cozy Quilt Designs
UPC:
9780982741528
Manufacturer #:
CQD04013
Beauty N Check includes twenty-five large
"block"
and five small
"block"
options for an array of possibilities to make your own unique quilt. Book contains full-color detailed instructions for paper piecing as well as a CD.
$29.99
First Blush BOM
by Its Sew Emma
UPC:
9780996632232
Manufacturer #:
ISE 913
First Blush Block of the Month by It's Sew Emma. "Create an array of
"block"
s featuring our First Blush Block of the Month Book! Intricate
"block"
s are simplified by using our new Creative Grids Starburst 30 Degree Triangle Ruler."
$24.95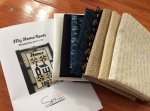 My Home Roots Kit
by Sew Blessed
My Home Roots designed by Sew Blessed for Nebraska Shop Hop
"2017"
. Finished size wall hanging 26 1/2" x 13". Pattern is written for wool applique on cotton, however cotton applique may replace the wool. The perfect gift to personalize for weddings or anniv
$35.99
At Sea
by Cozy Quilt Designs
UPC:
738676625233
Manufacturer #:
CQD01086
Strip Club - At Sea. With just 2 1/2in strips, some background, and accent, make this quilt that looks much harder than it is. There is just one simple
"block"
, twisted and turned and set on point. The
"block"
uses the the Strip Tube technique to make it fast
$9.00
Super Satchel Aqua
by Artbin
UPC:
071617047269
Manufacturer #:
6955AA
Super Satchel 1 Compartment Aqua in color from Artbin. Great project box easily holds a 12X12
"block"
.