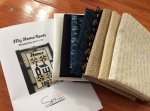 My Home Roots Kit

My Home Roots designed by Sew Blessed for Nebraska Shop Hop 2017. Finished size wall hanging 26 1/2" x 13". Pattern is written for wool applique on cotton, however cotton applique may replace the wool. The perfect gift to personalize for weddings or anniv


Ribbon Postcard Mini Quilt

Ribbon Post Card Mini Quilt - part of Shop Hop 2018 Sew Blessed designs! Finished size 26" x 30". Kit includes pattern, mini quilt top fabrics, and binding. Backing and batting not included.


SALE:
$ 8.00-$ 27.99

$ 8.00-$ 18.20





Welcome to the Pumpkin Patch #4

Welcome to the Pumpkin Patch Mystery Block of the Month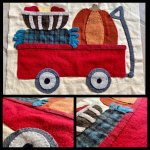 Welcome to the Pumpkin Patch #5

Welcome to the Pumpkin Patch #5


Welcome to the Pumpkin Patch Pattern # 5

Welcome to the Pumpkin Patch Pattern #5 Pattern only


Wooly Block Adventure 2018 Rainy Day Bouquet
Wooly Block Adventure 2019 Sheep All Season Digital Download
Wooly Block Adventure 2019 Sheep All Season Kit
Out of Stock