Beep! Beep!

Make Car or Jeeps using Row by Row License Plates Finished Size 12"x36"-each section is 12"x18"


Bloom'n Poppies

Bloom'n Poppies Wool Applique Wall Hanging by Crane Design. Finished Size is 13" by 17".



Out of Stock
Come Let Us Adore Him

Nativity buttons gather 'round in this adorable Christmas stitchery. Pattern includes one set of buttons along with instructions to make this with all embroidery or applique. Finish as an 11.5"x11.5" pillow or frame yours in an 8" embroidery hoop.



Out of Stock
Everlasting Hearts

Everlasting Hearts by Crane Design. Wool Applique Mat and Gathering Bag. Wool applique mat finished size is 16".


Field Of Flowers

Field Of Flowers by Norma Whaley of Timeless Traditions. Finished size 48" x 48".



Out of Stock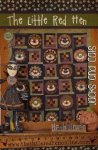 Jacks and Cats

The Little Red Hen Jacks and Cats Quilt. Approximate Finished Size 50" X 58".


Mr Snowman

Mr. Snowman


Patty Cake Quilt

Patty Cake Quilt by Elanor Burns. 10" precut friendly sizing from crib to Queen



Out of Stock
Rise & Shine

Rise & Shine


Sew Necessary

Sew Necessary Finished size 6"x12"



Out of Stock
Snow Dance

Snow Dance pattern with Triangle Paper


Springtime Meadows

Springtime Medows two small pillows


Travel Treats

Travel Treats by Wing and a Prayer Design. Includes patterns for clutch/tote pocket (8"x13"), travel treat tote (14"x18"), hot iron cover (6"x12"), and cell phone sunglass treat (5"x6")


Winter

Winter finished size 40" x 50"



Out of Stock